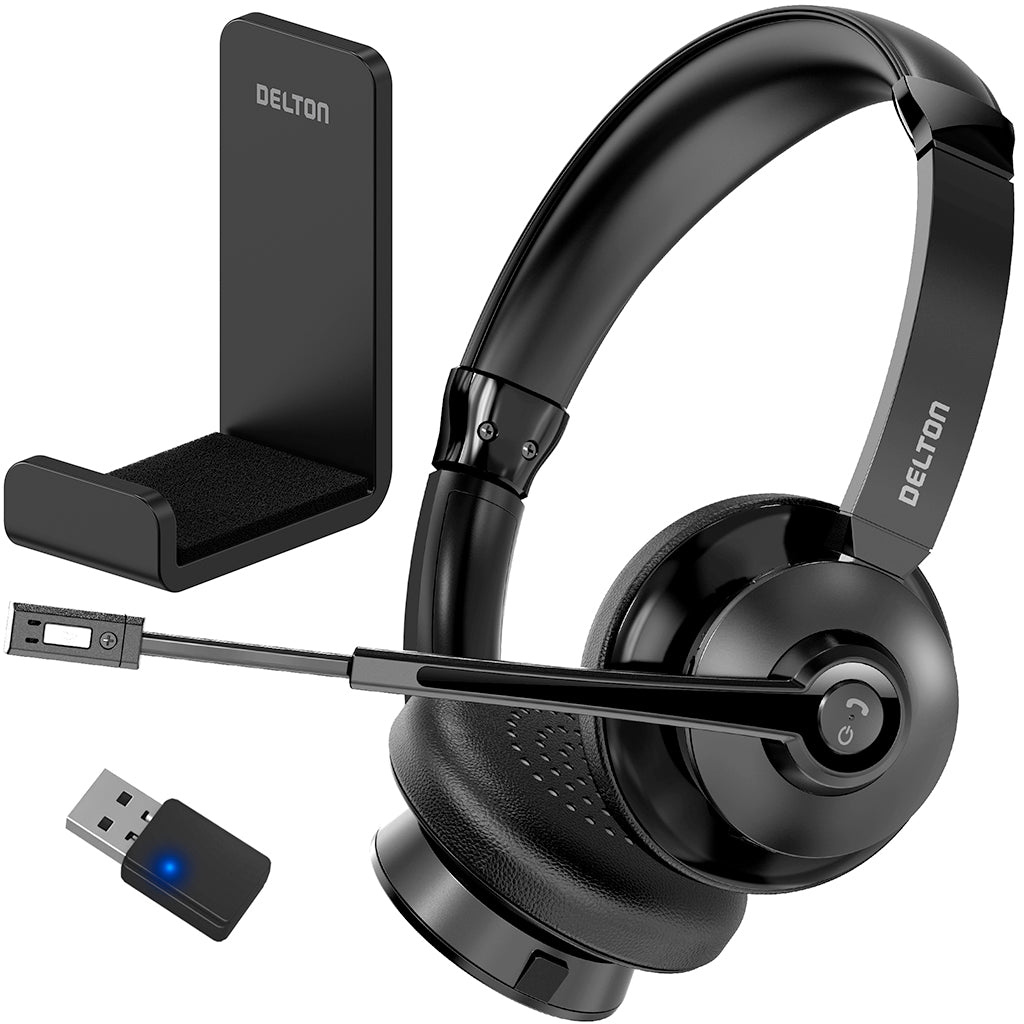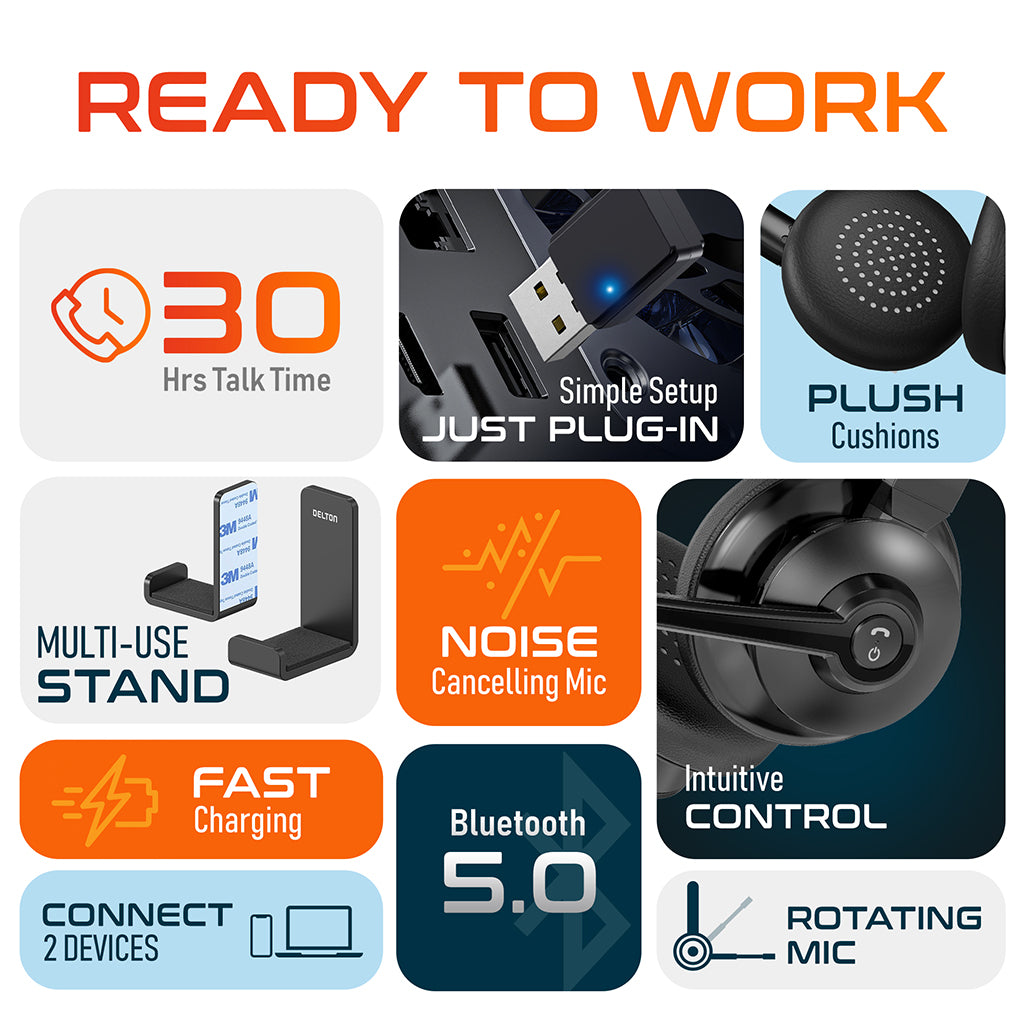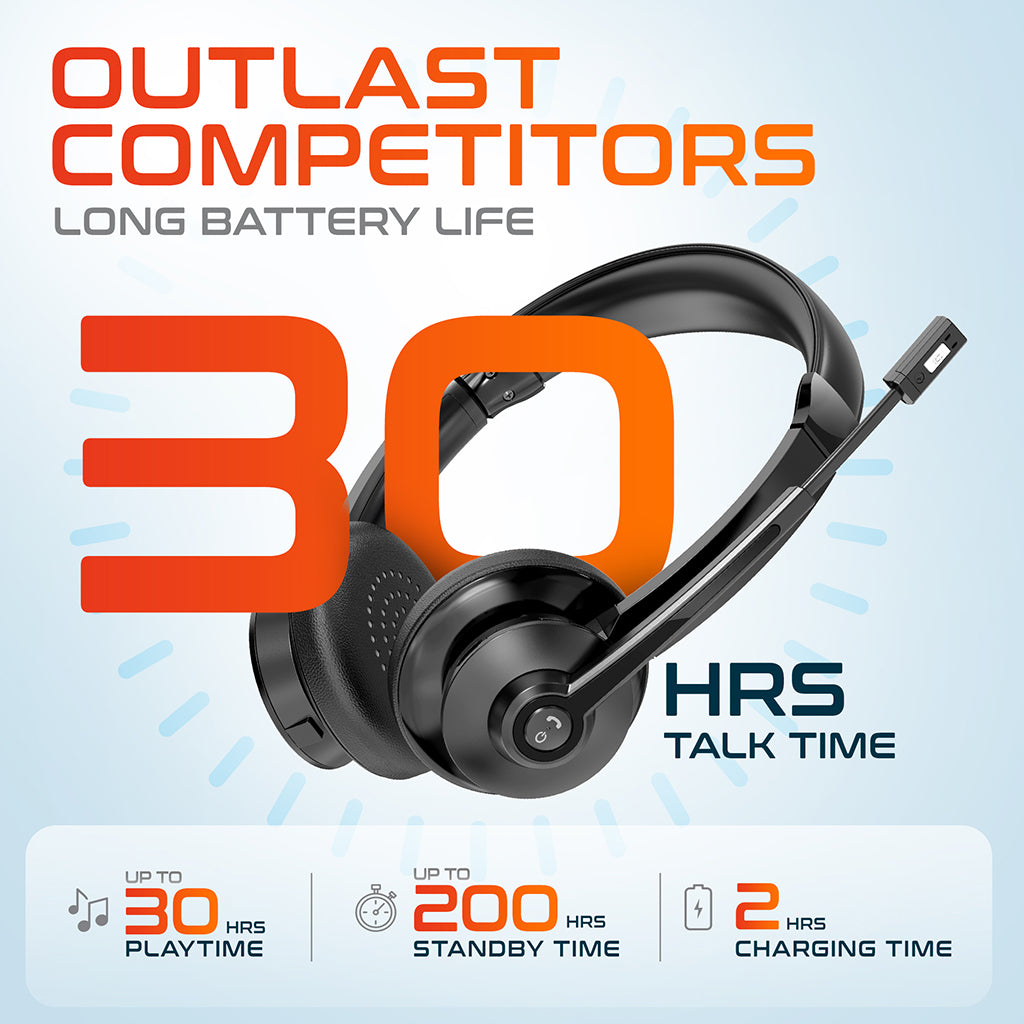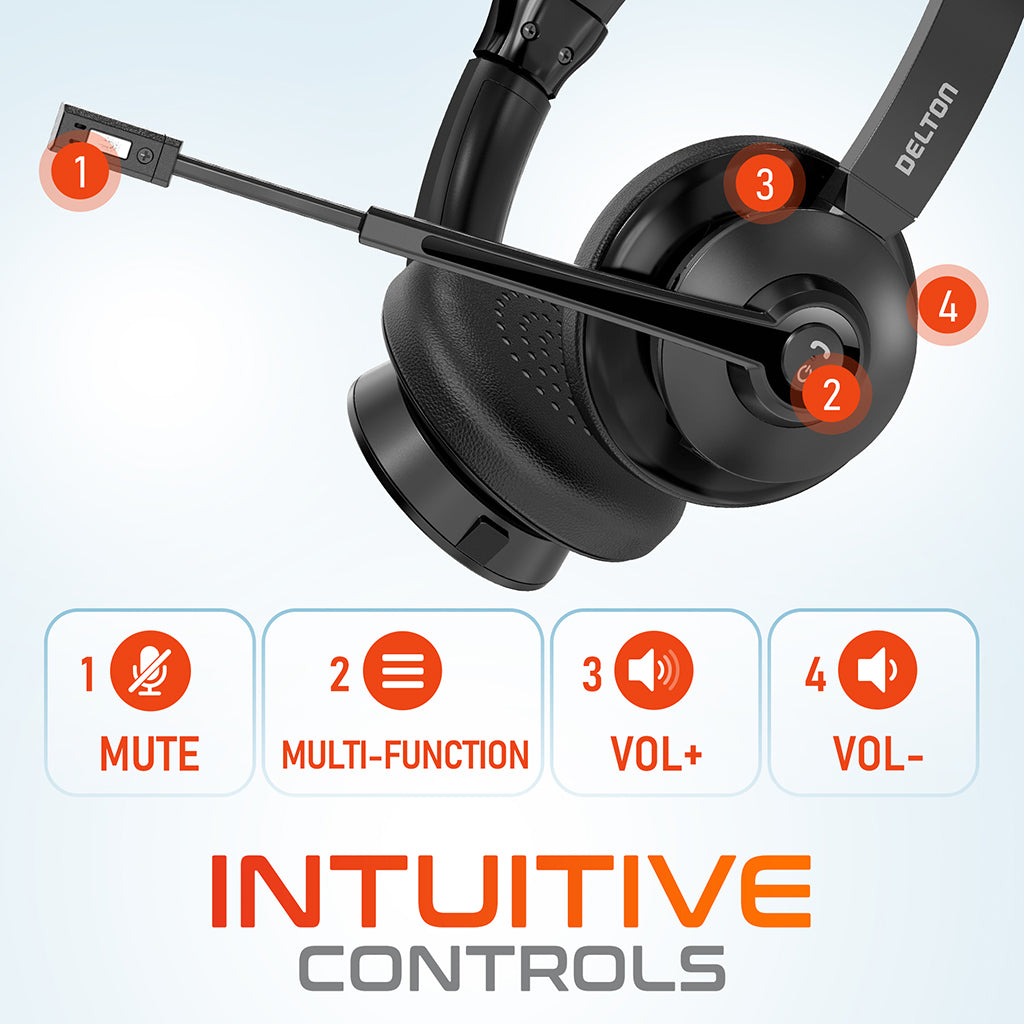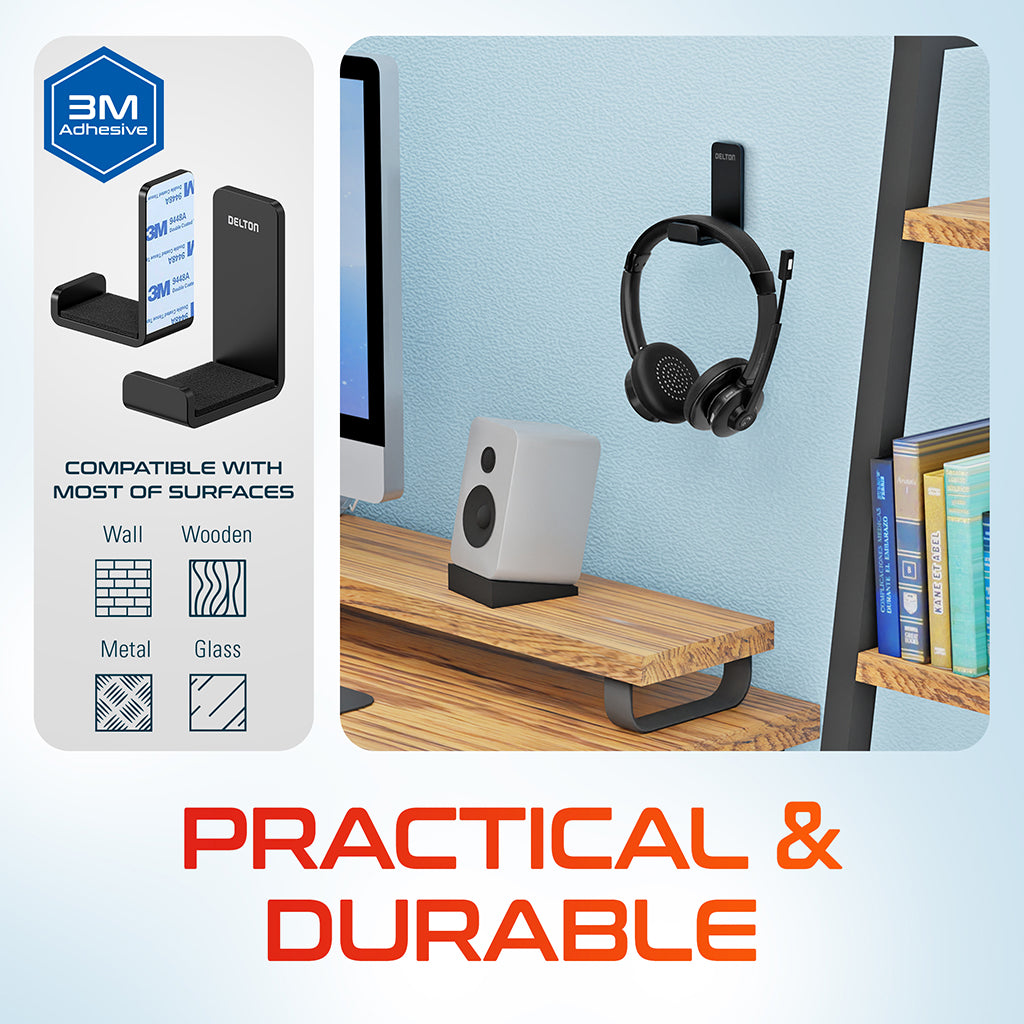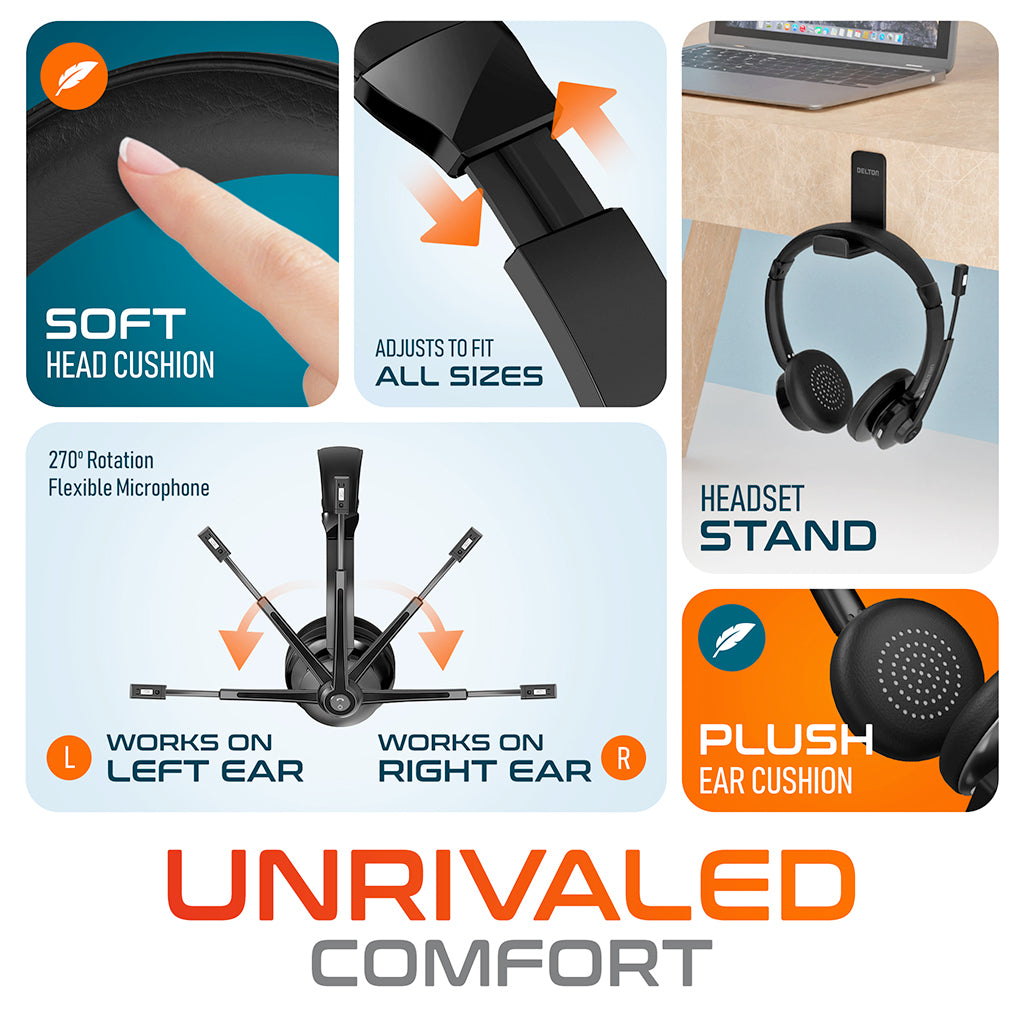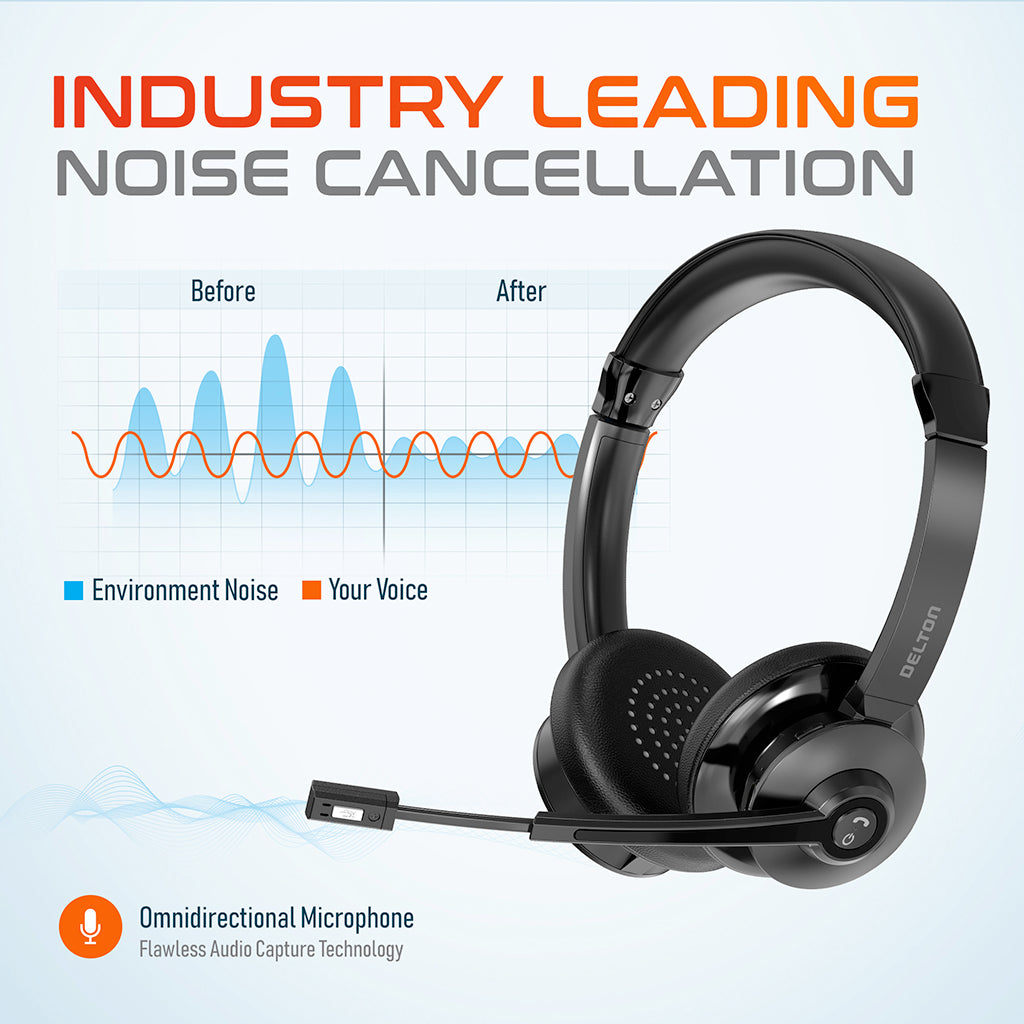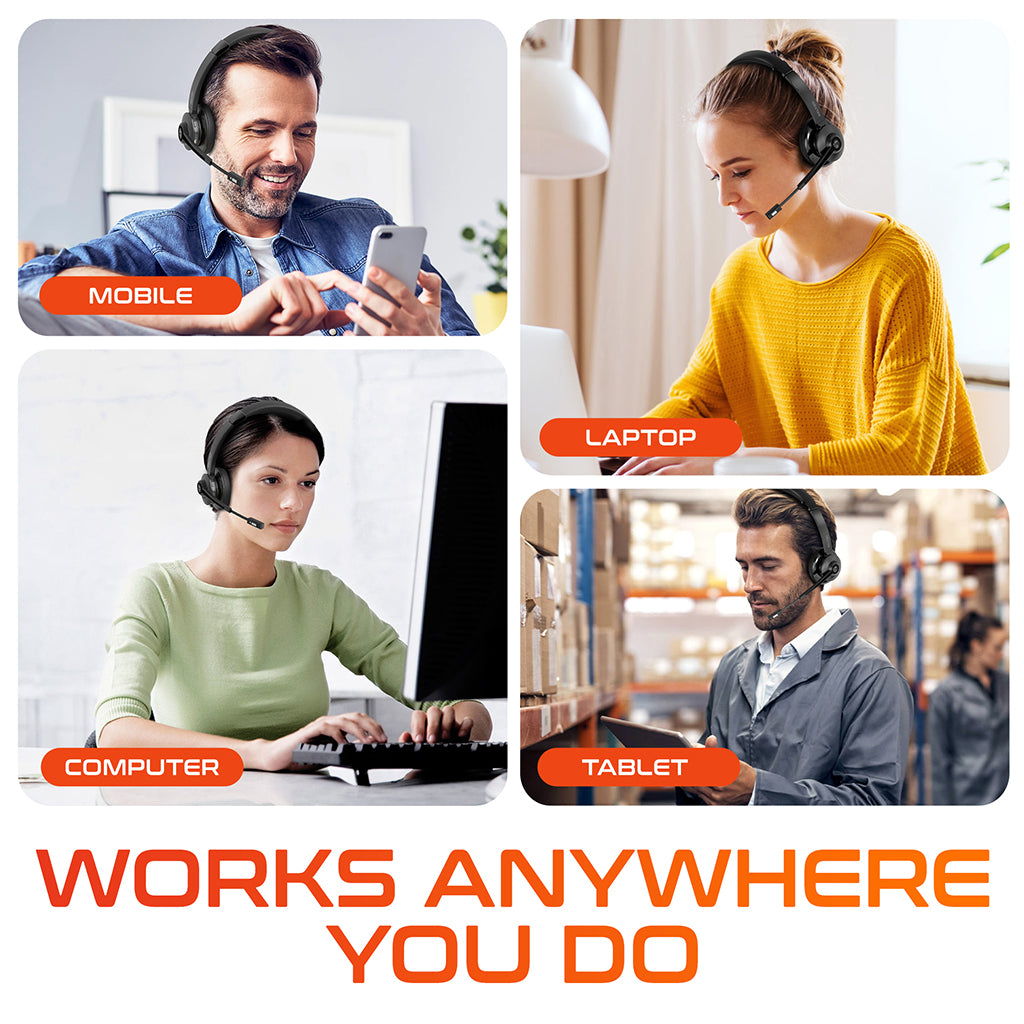 Delton 30X Wireless Stereo Headset with Stand
---
Ergonomically designed: with soft memory foam ear cushions, an extendable cushioned headband, and intuitive controls
Ultimate clarity: Uses Delton's proprietary audio chipset to make sure you're heard clearly no matter where you are or what's in the background
Long lasting: Packs a powerful battery that offers up to 30 hours of talk time and 200 hours of standby time
Universal compatibility: Wireless Bluetooth connectivity makes the headset compatible with any PC or laptop, all iPhones, and all Android phones
Flexibility: Boom mic rotates 270-degrees, so you can comfortably work from either your left or right side
Comfortable and Adjustable: multiple headband adjustments and soft memory foam cushioned ear pads make this headset one of the most comfortable two-ear headsets out there
Easy pairing: Auto-pair USB dongle makes pair to any laptop or PC super simple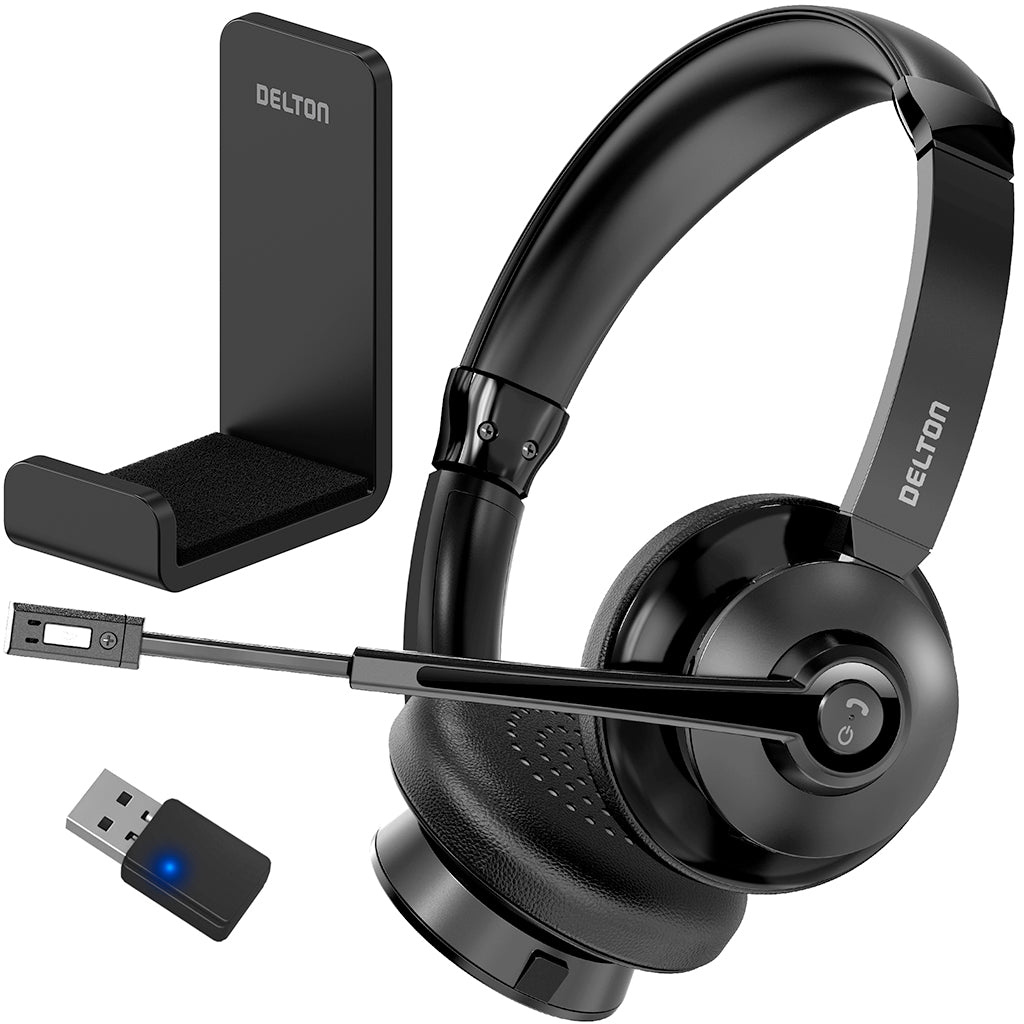 About the 20X
Wireless Bluetooth headset with all the features you need to get the job done
Designed to help your productivity. Delton enlisted office managers, and remote workers to help build a headset with all the features you need for all-day comfort, with a long-lasting battery, and a 3.5mm cable that lets you work even when the battery is dead.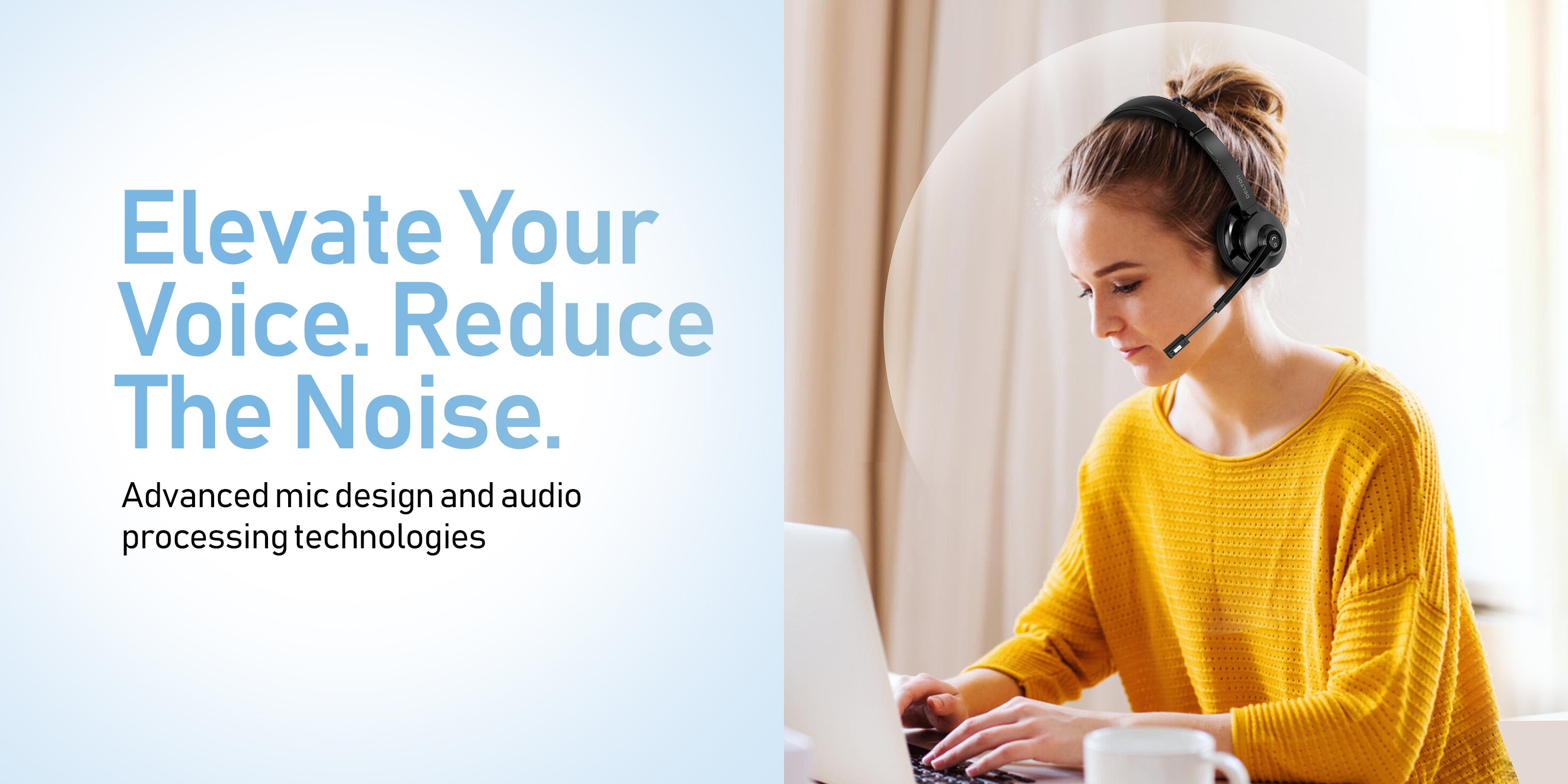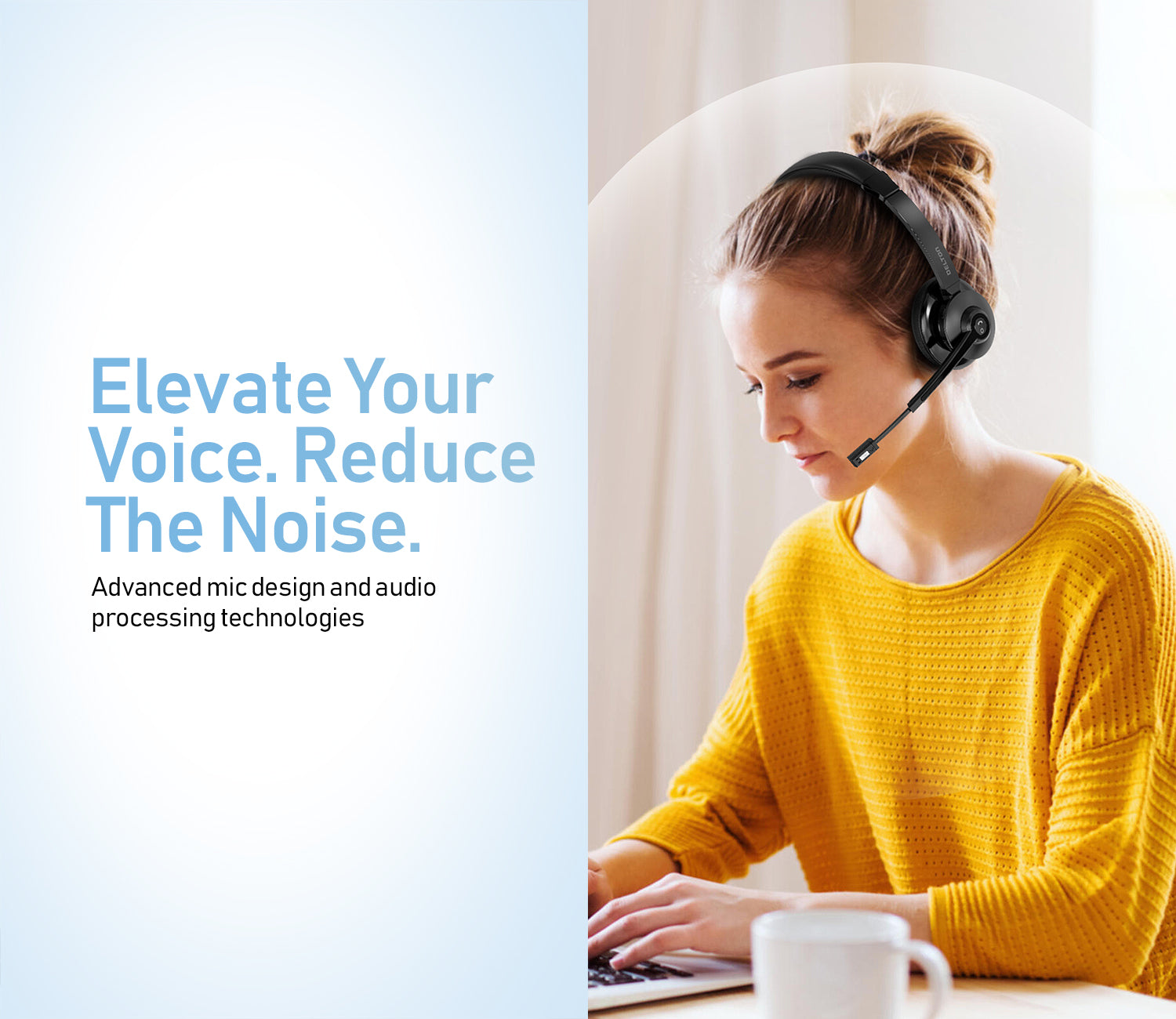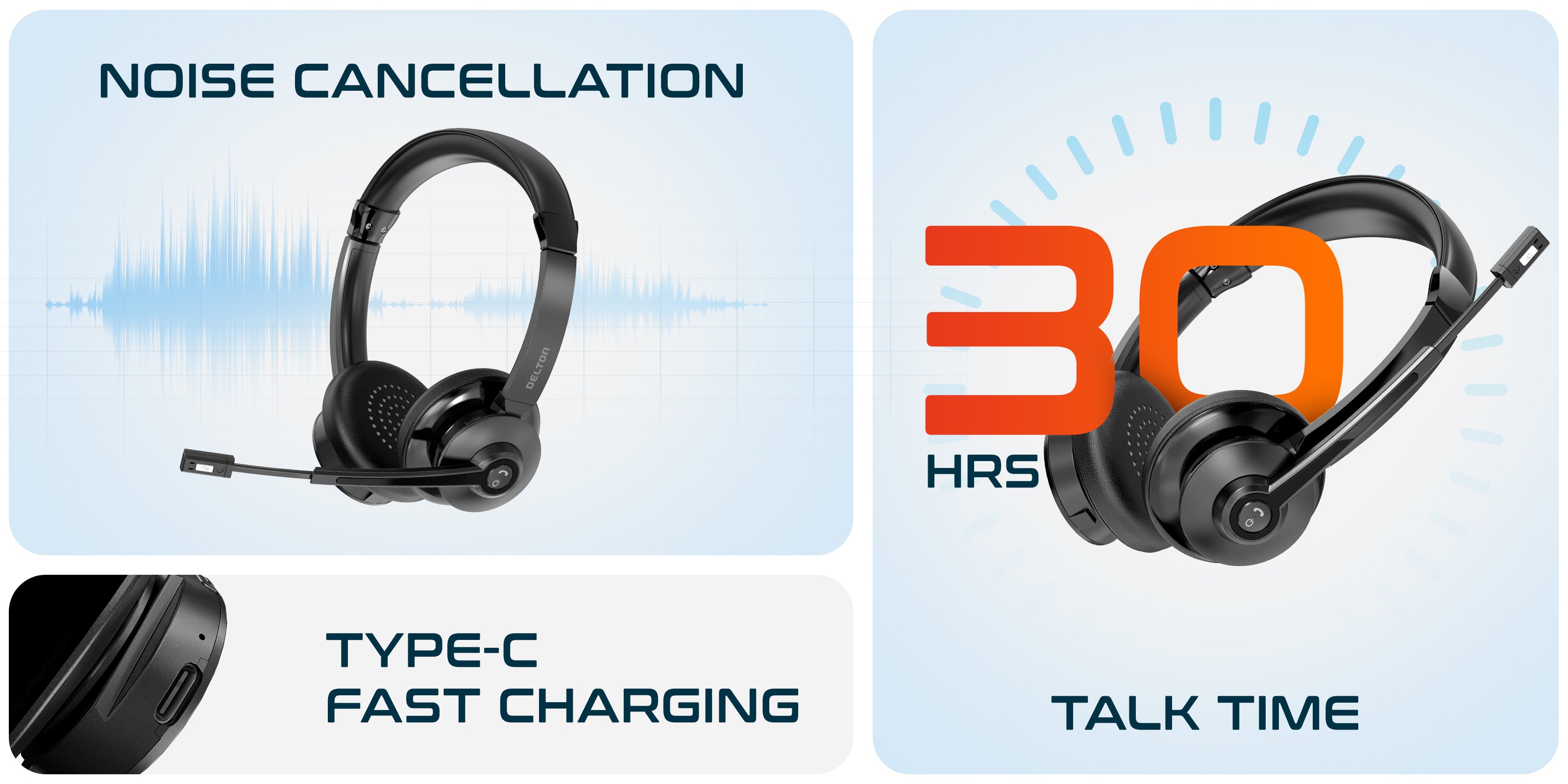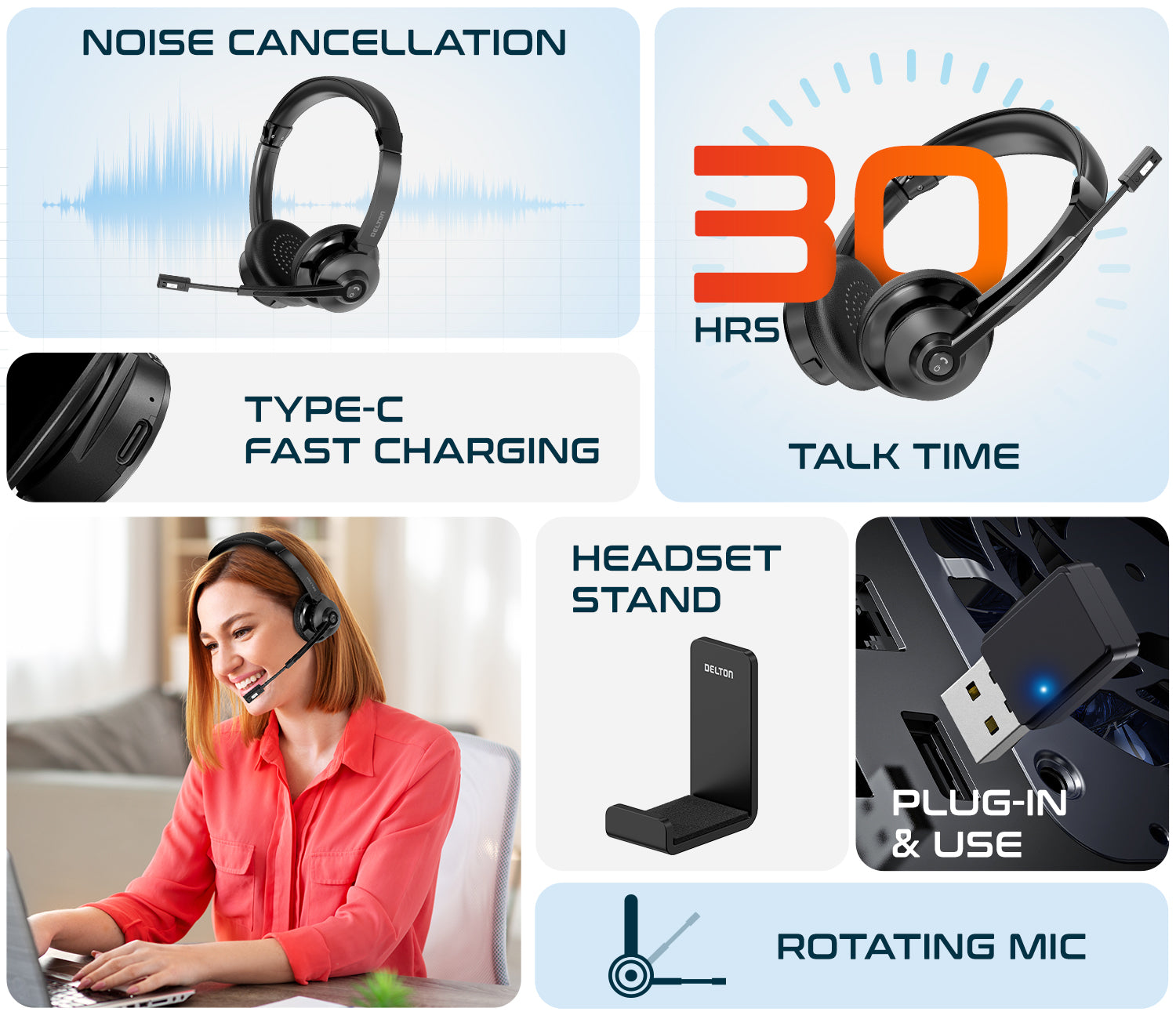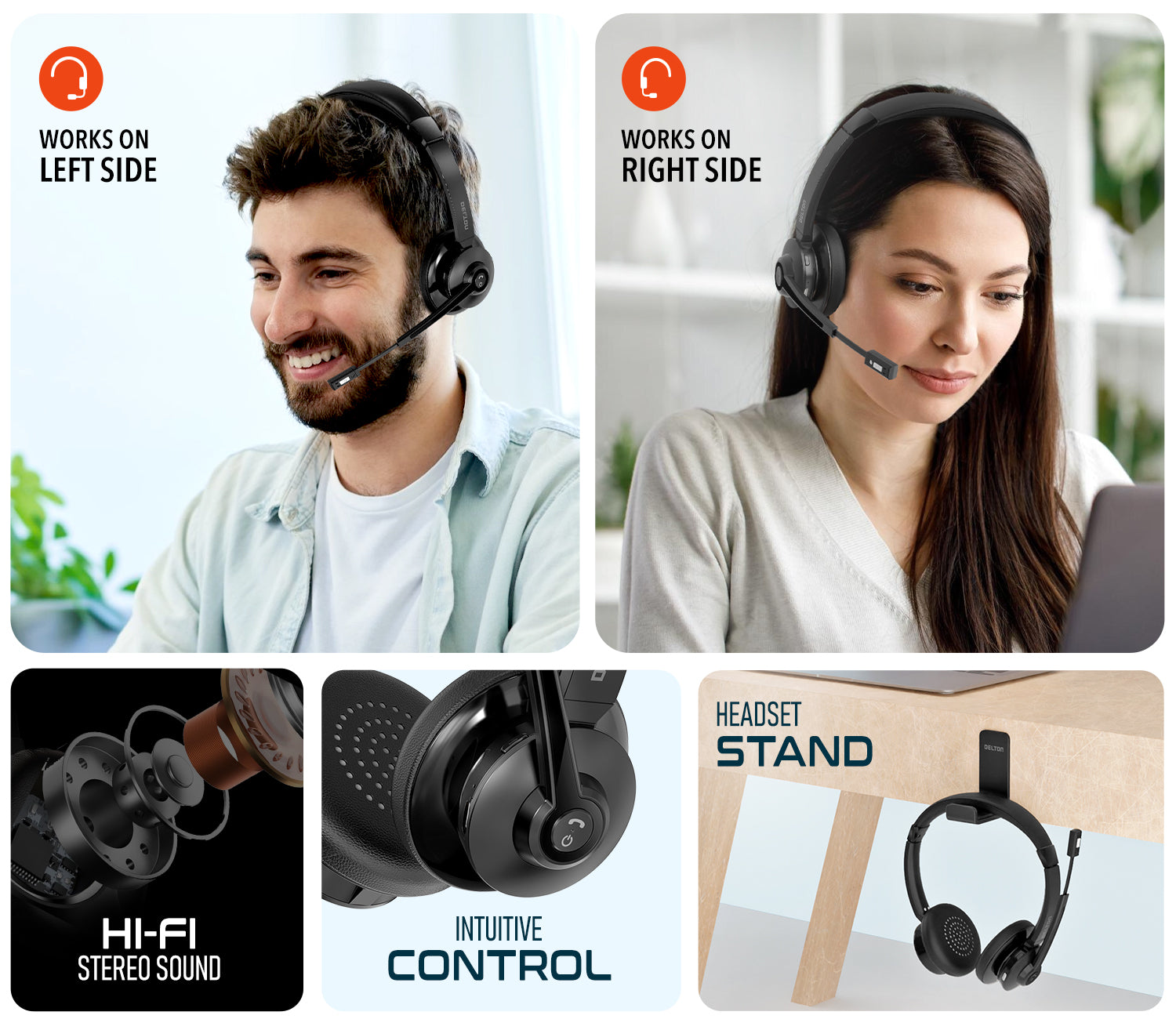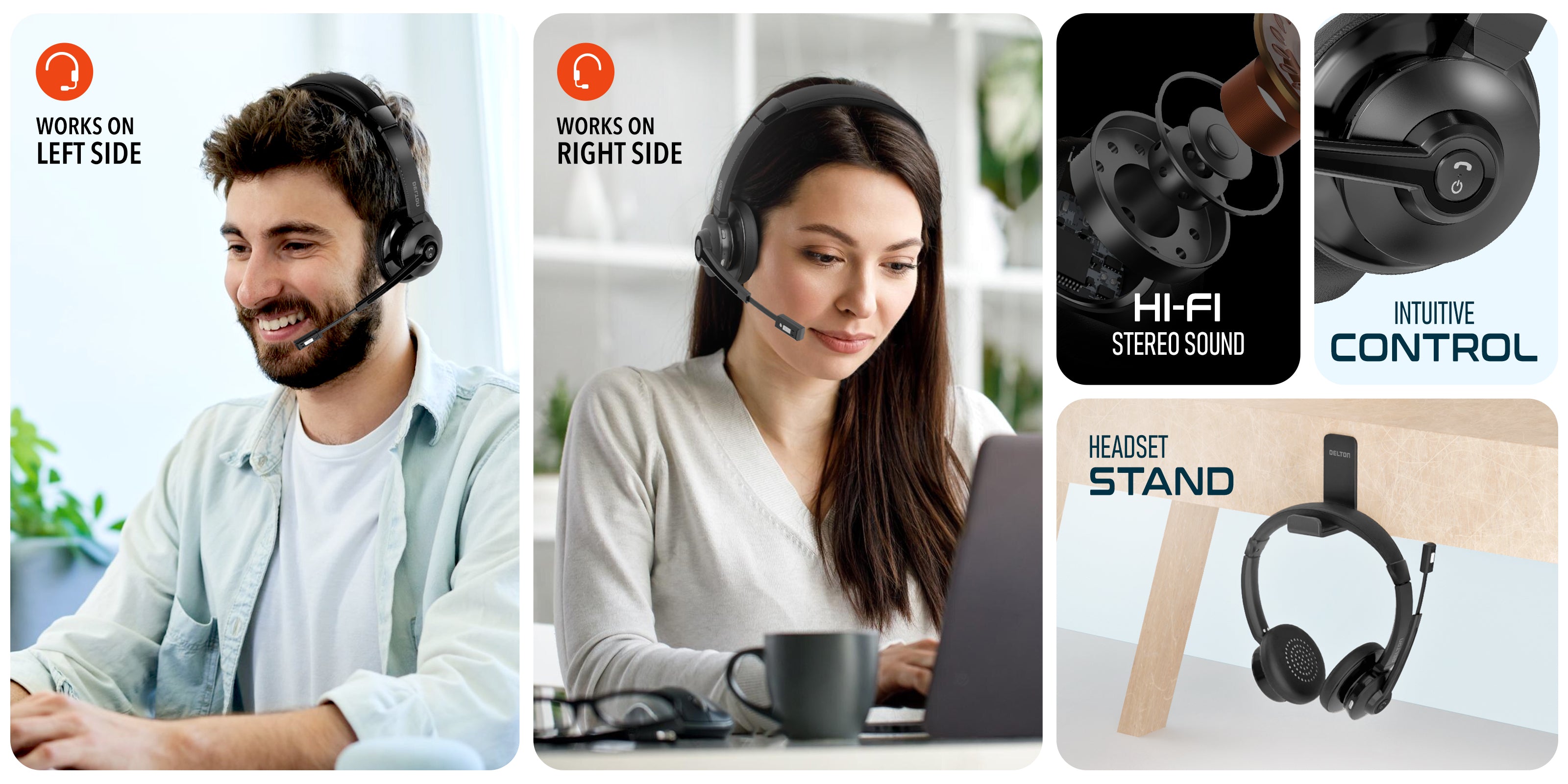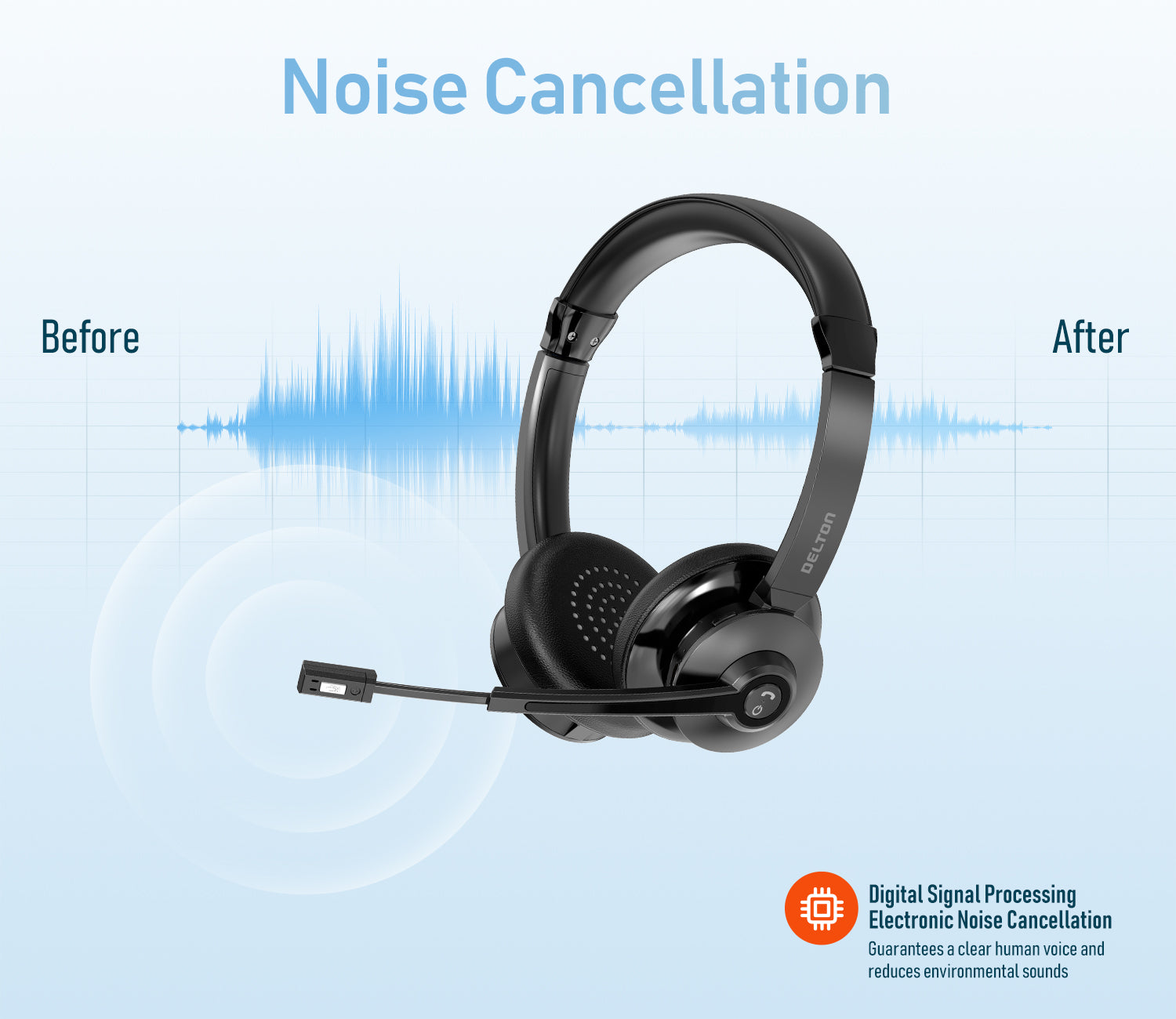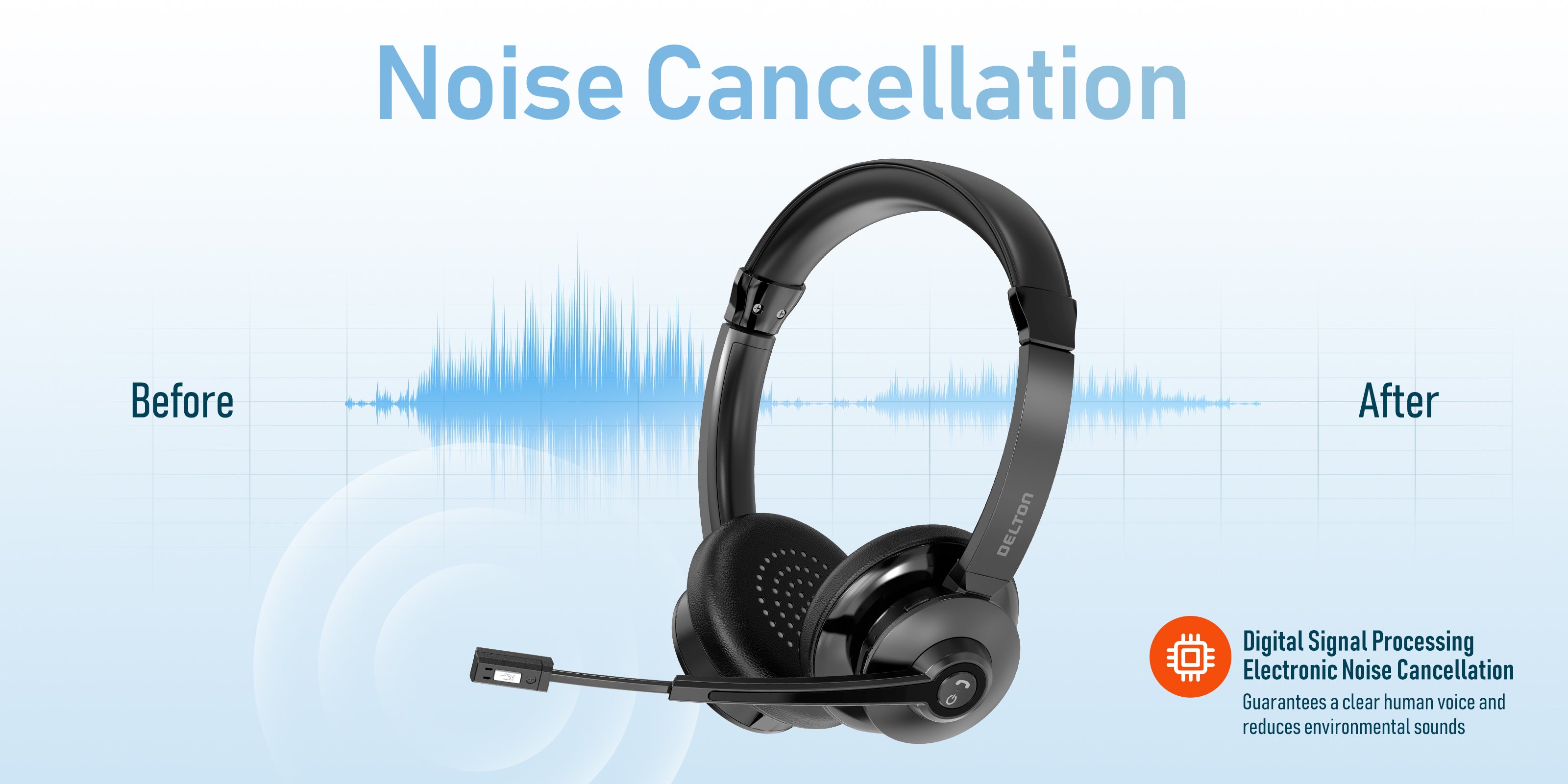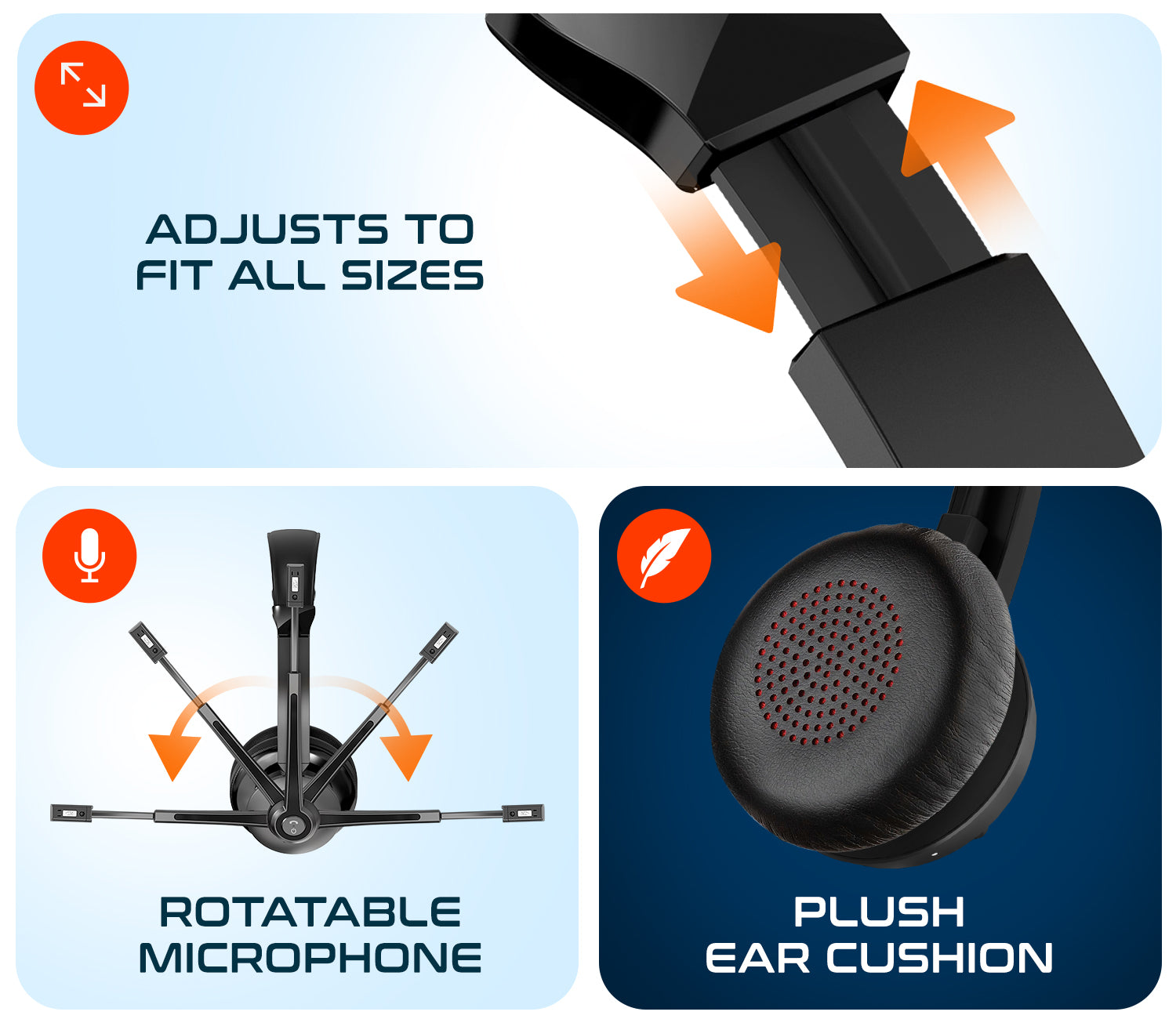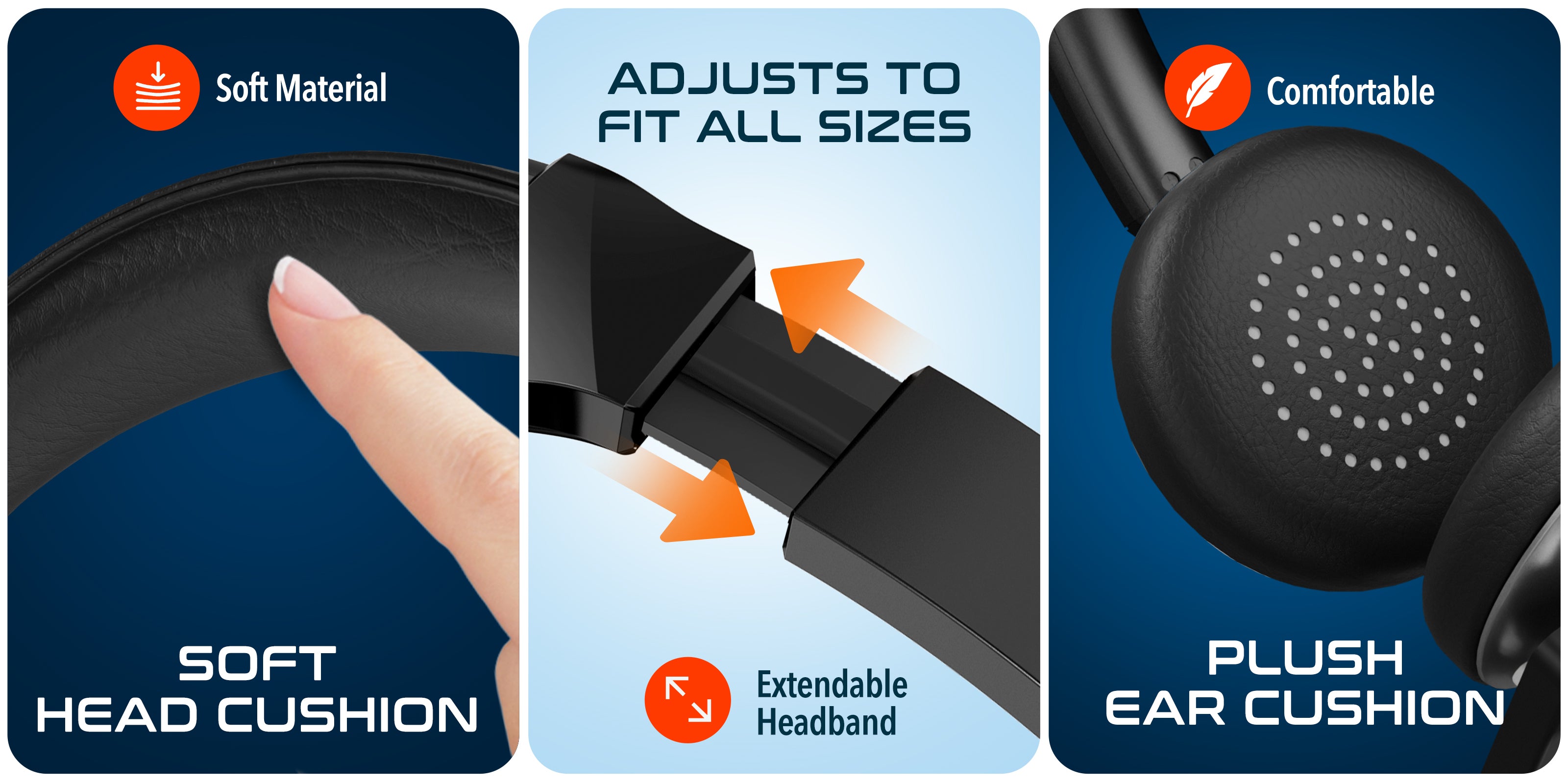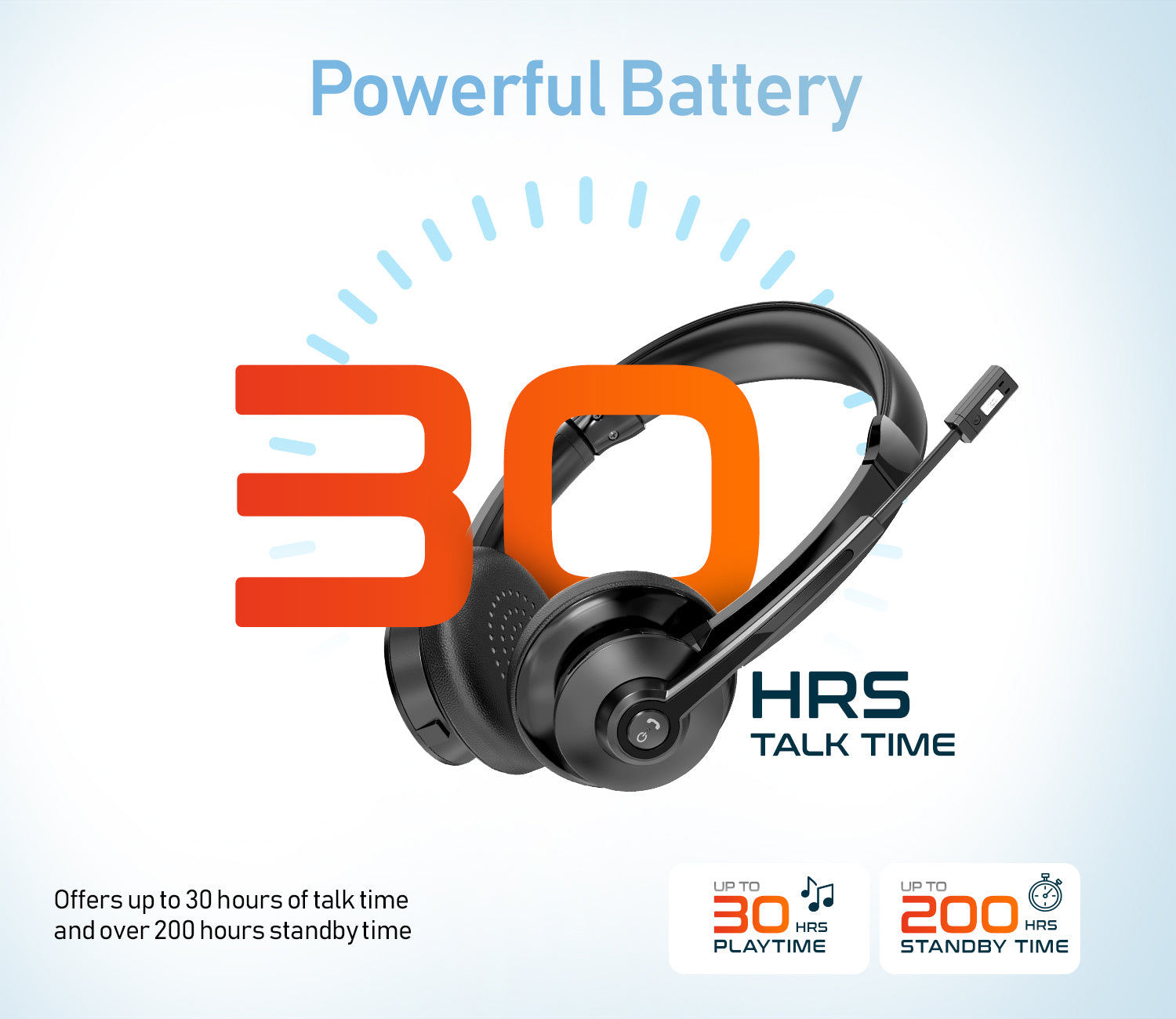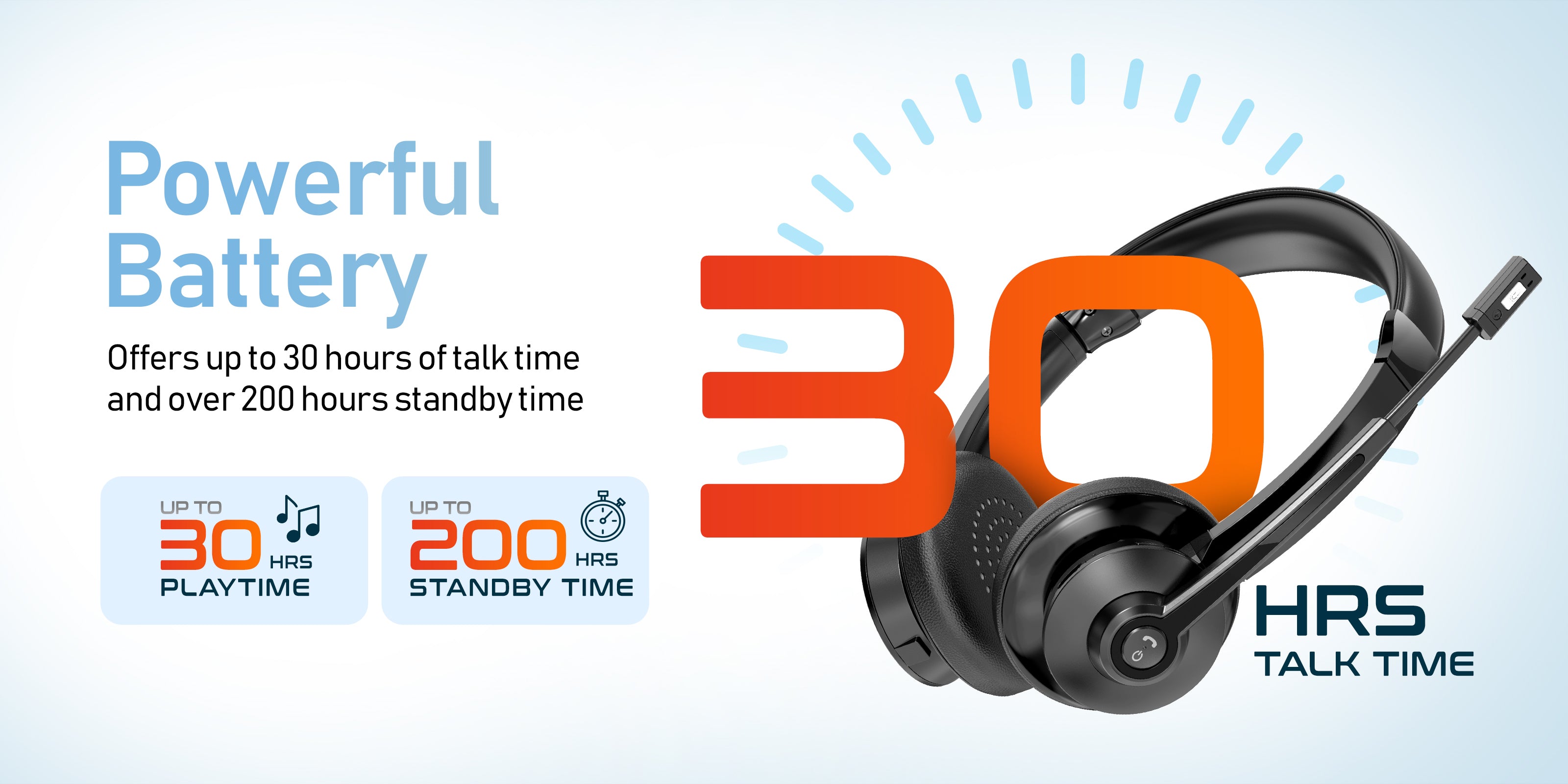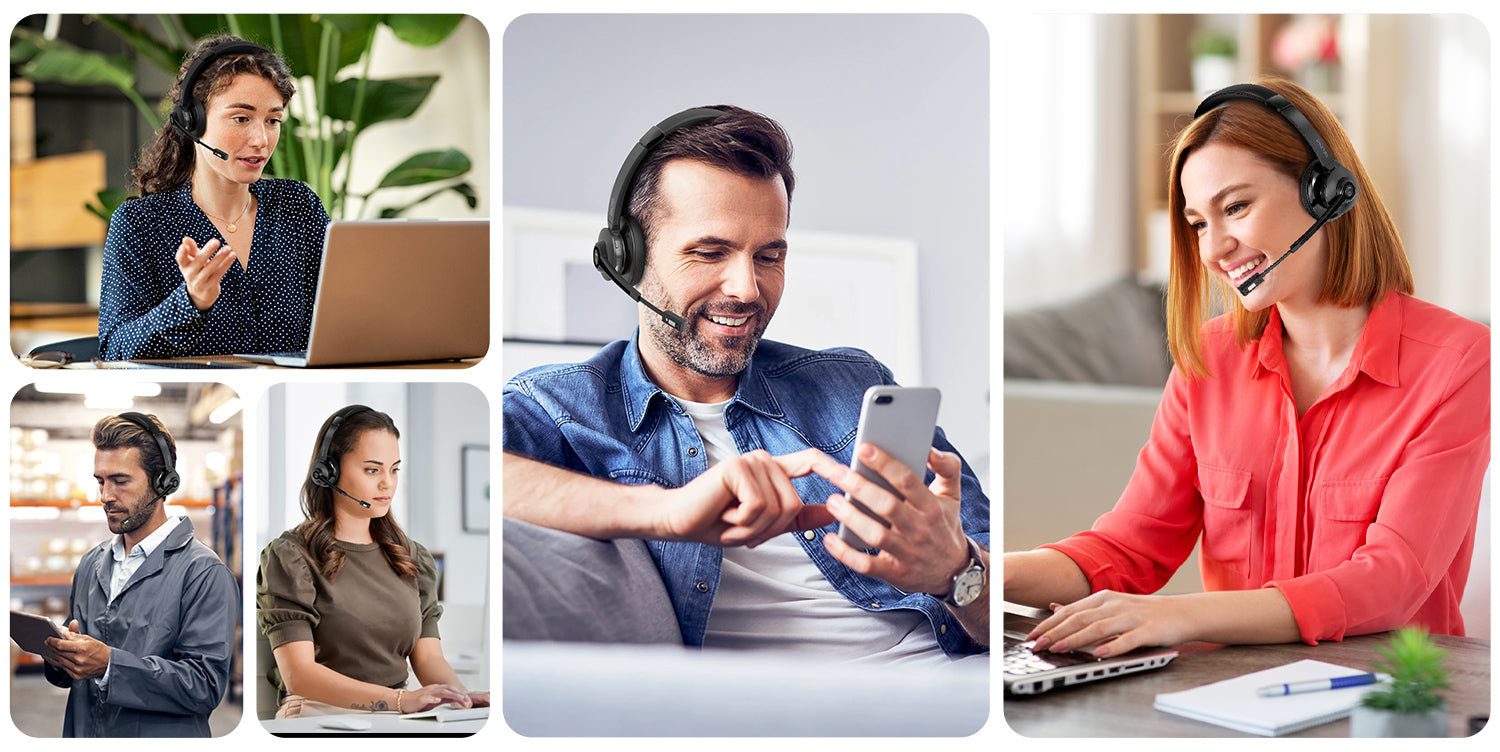 This product is rated 5.0 of 5.0 stars.
It has received 4 reviews.
Not bad
The headphones seem to connect and work ok, My only complaint is that the microphone sound does not come through the headphones so that you know it is working and can hear yourself clearly. It is like talking while covering your ears.
Very Clear Quality Sound! Nice!
Very nice headset with excellent sound quality! I use the equalizer in my sound settings to get just the right tone! Crisp, clear and satisfying with just the right amount of "thump". Very similar sound through my Galaxy ear buds! Impressive is the word of the day with this quality-made Bluetooth headset!
Good headset; easy setup; great sound
Setup couldn't be easier. I just plugged in the Bluetooth dongle into a spare USB port on my Windows PC and the headset connected right away, temporarily disabling my regular PC sound system at the same time. The description says this charges itself with a USB C cable, but mine required an older micro-USB plug, not a big deal, but worth noting. I started to use the headset by listening to music, and it was flawless, even though the earphones are "open" meaning they don't completely enclose your ears, which I prefer, so I can hear if someone wants to speak to me. The noise cancellation feature only kicks in when using the microphone, and this is hard to evaluate without trying it out in varied circumstances, but from what I could notice, it does work and conversations over the internet worked fine and with very good fidelity. I also can't fully evaluate the claims of how long a charge will last in the internal batteries, but so far, they have held up for many hours, and charge time was complete in under two hours.
There's much to like about this headset and I look forward to trying it out with other devices like my cell phone and tablet computer, but my initial trials on this are quite positive.
Works great
These headphones work great. They were really easy to pair. The sound quality is excellent, and noise reduction is good. They come with a charging cable and a hook. Compatible with all Bluetooth enabled devices. Worth every penny.