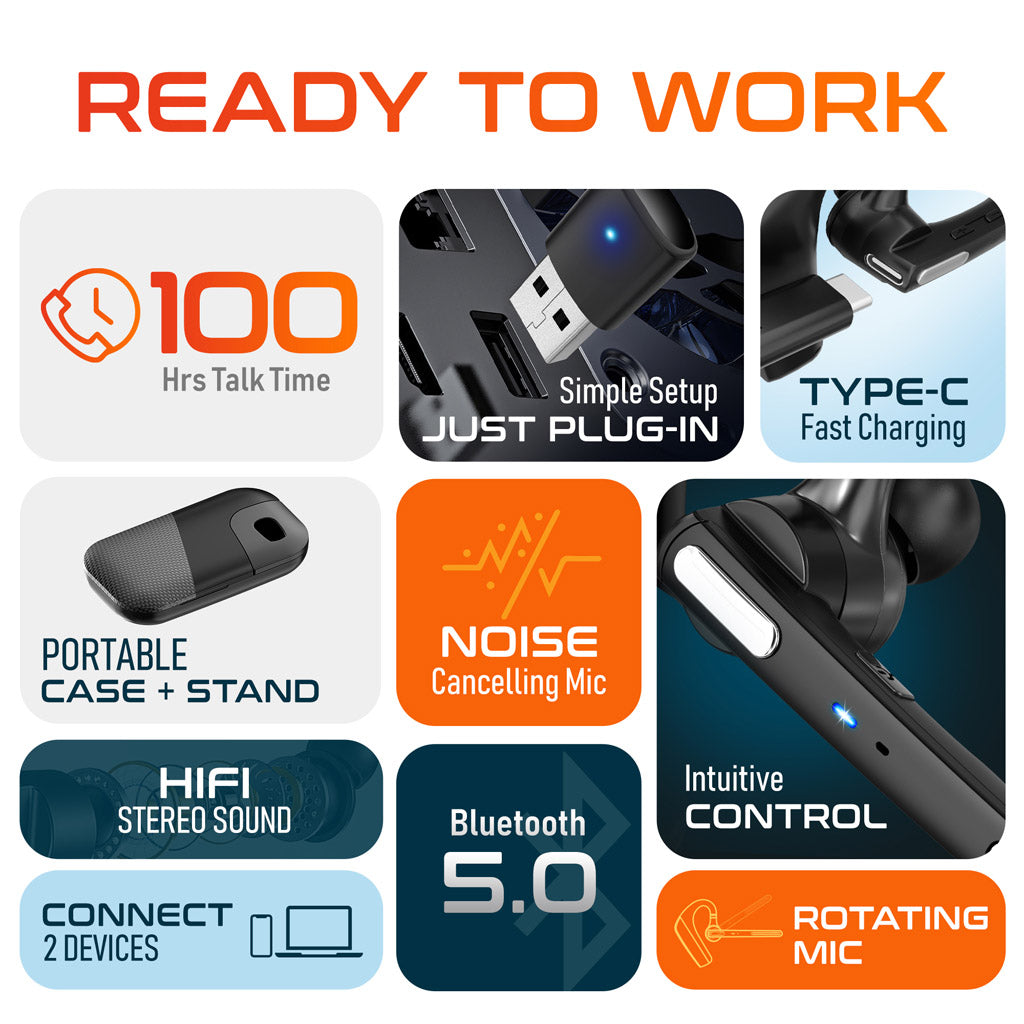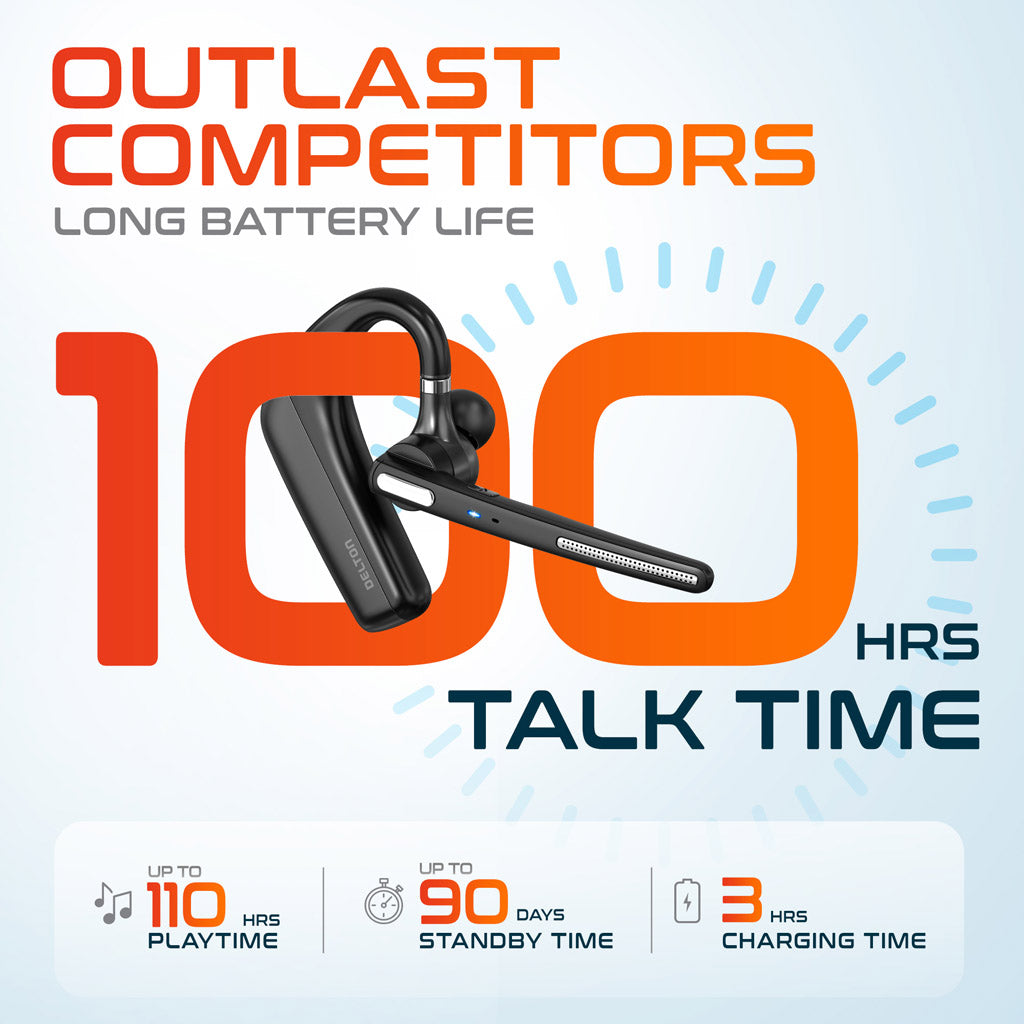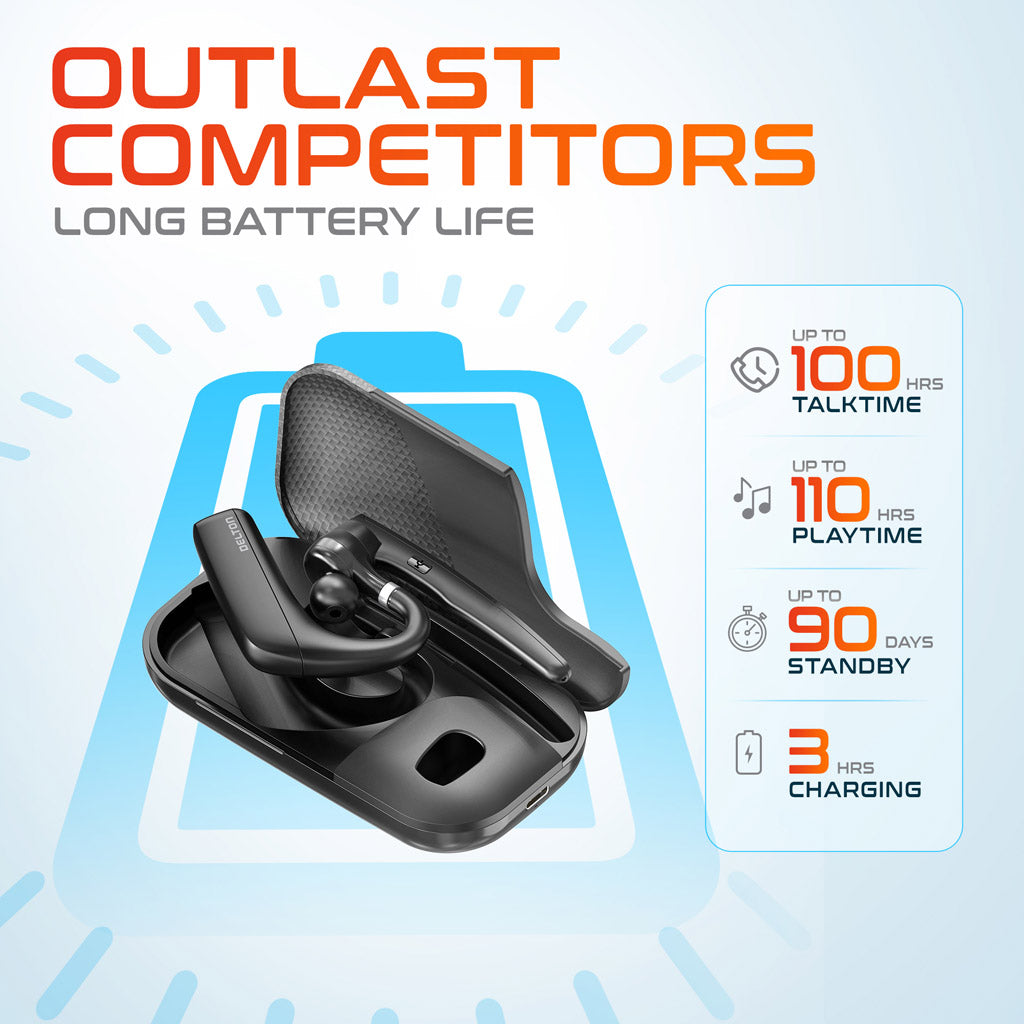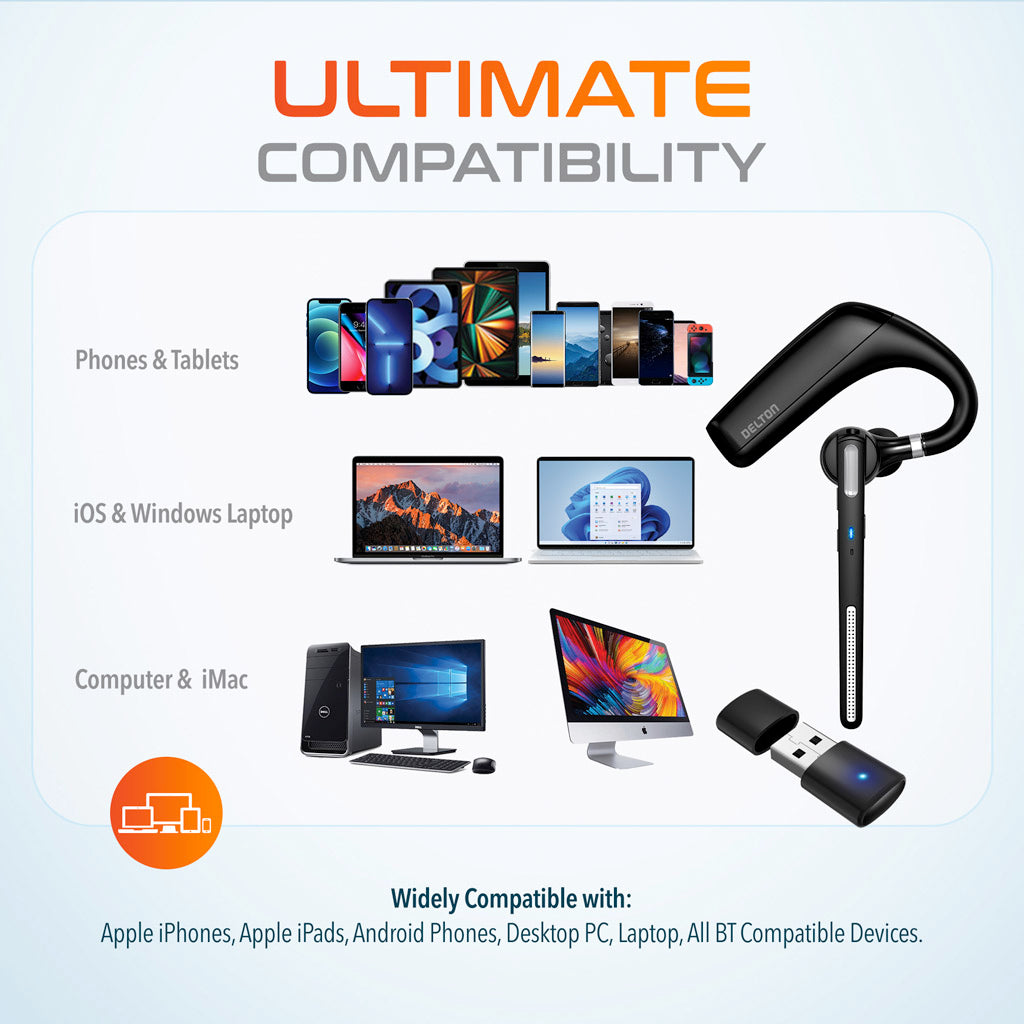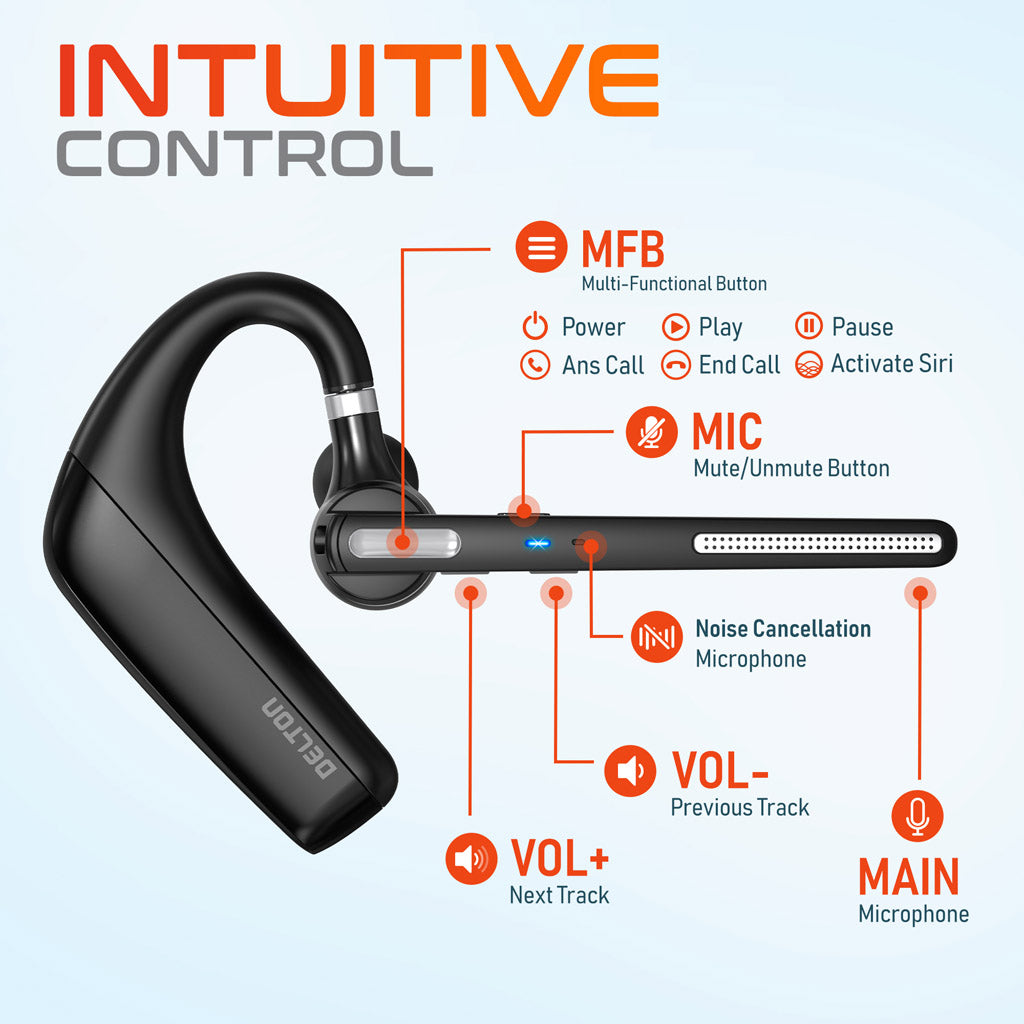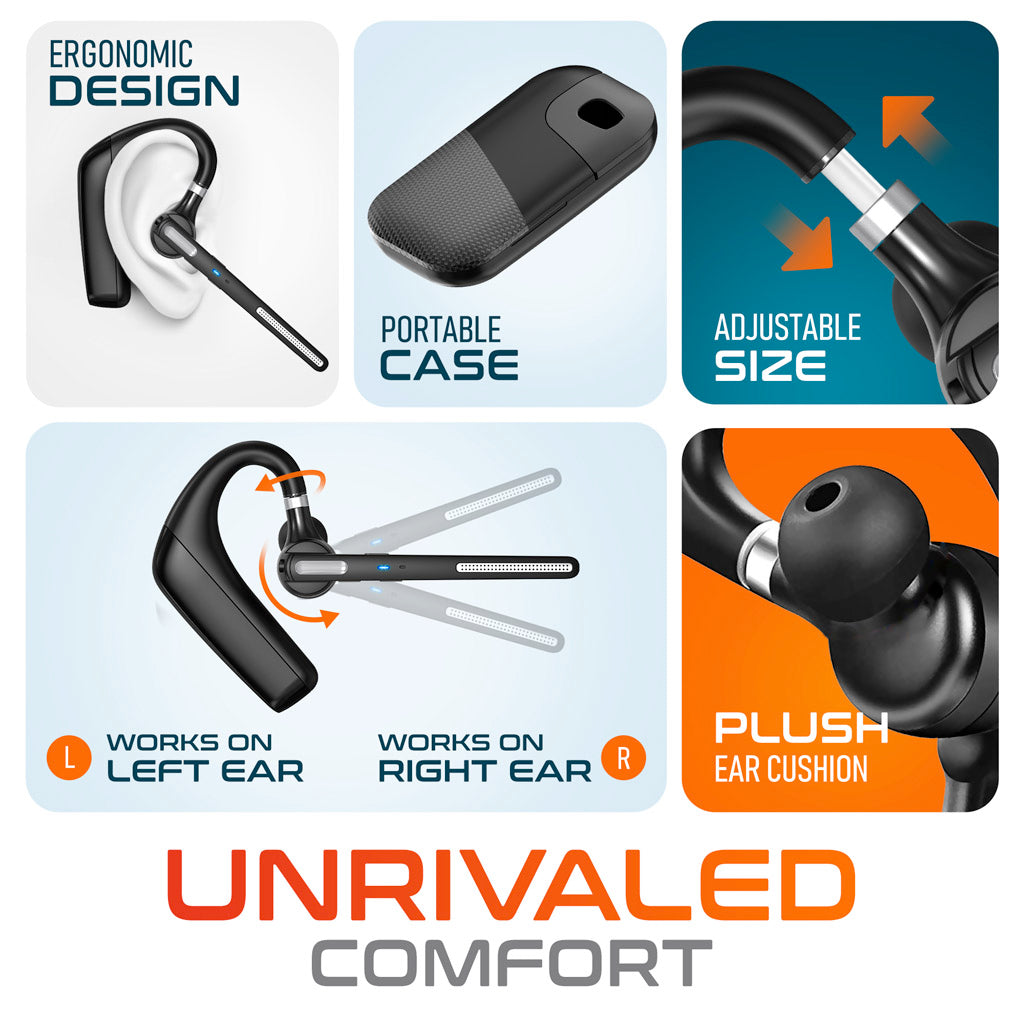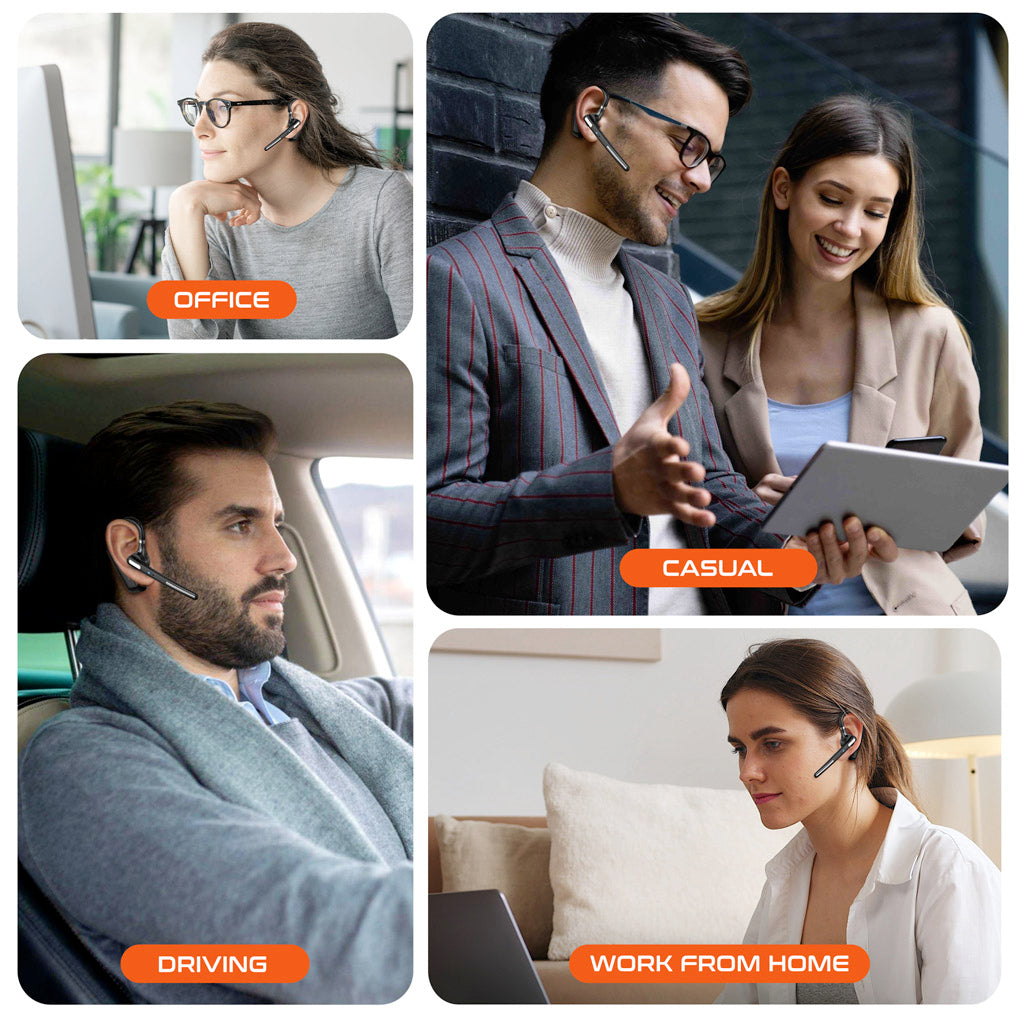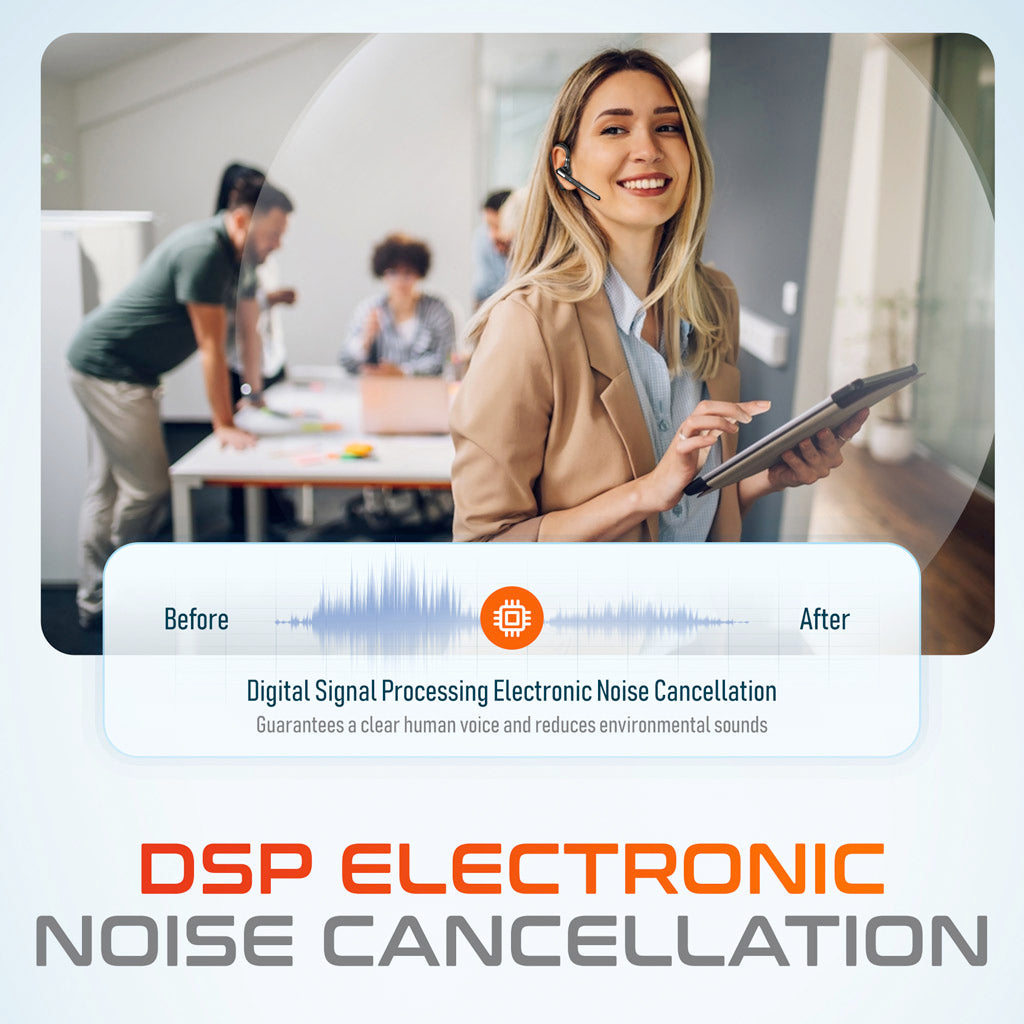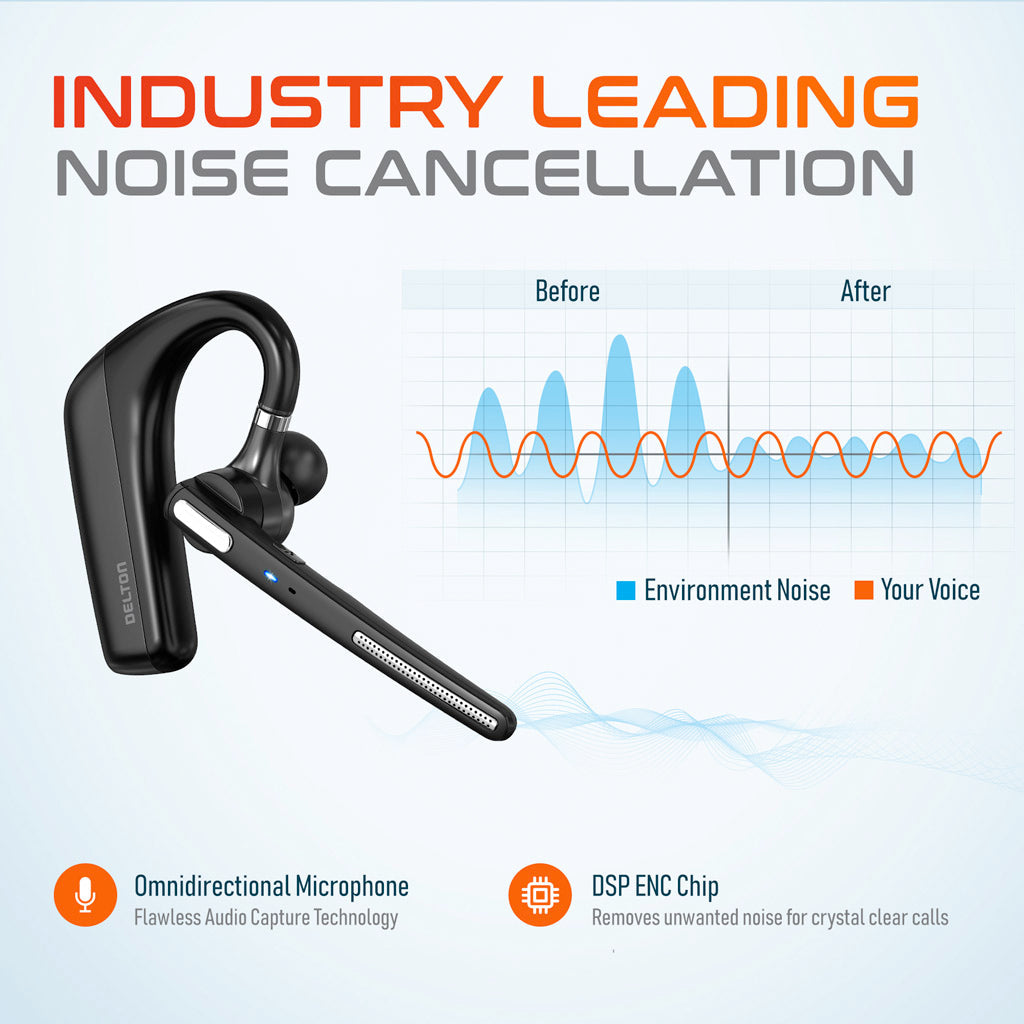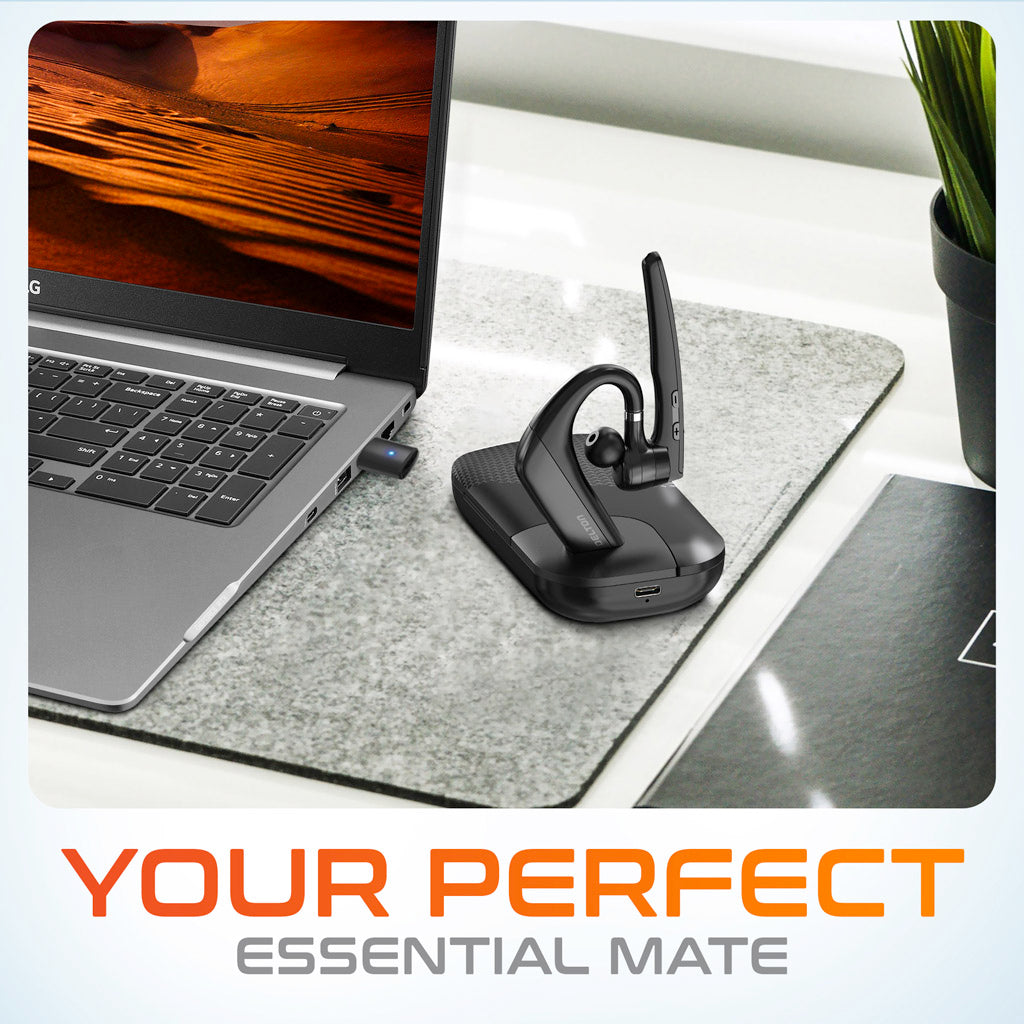 Delton 90X Bundle: Ultralight Noise Cancelling Executive Headset + Webcam
---
Crystal clear audio, auto-pairing dongle, 1080P Webcam, multiple cushions for a comfortable fit, best-in-class battery, convenient storage, fast charging - ideal for work-from-home or on-the-go executives.
The Delton 90X Ultralight Executive Wireless Bluetooth Headset has been redesigned with power users like you in mind. Our engineers brought together a powerful battery with best-in-class noise cancellation. 4 independent microphones and smart digital sound processing technology isolate noise and ensure you always sound your best. A soft around-the-ear body and ultra-comfortable ear cushions (multiple sizes included) make the 90X feel like it's not even there. Super simple intuitive controls and a convenient carrying case that can also act as a stand round out the features this headset brings to help you get the job done. The included auto-pairing USB dongle makes setup super simple, just plug in, turn on, and you're ready to go!
C-Suite Design. Practical Price: The Delton 90X Bundle includes our 90X Ultralight Executive Headset which is designed based on the 10+ years of feedback we've gotten from you. Each Delton 90X is made of soft silicon and foam pads, offers intuitive controls, an extremely long lasting battery, a convenient carrying case/stand, and comes with a Delton 1080P USB webcam to make sure you have all the features you need to stay productive throughout the day.
Superior Call Quality: Your conversations are important. Clear communications today means better results tomorrow. Whether you have kids or pets in the background, are sitting in a noisy call center, or taking an important call on the road, the Delton 90X always makes sure your call quality is high. The 90X includes 4 independent microphones that help identify and isolate outside noise, and a Digital Signal Processing Electronic Noise Cancellation chipset to effectively remove 99% of noise. Audio quality is an essential feature in this headset. Get sound clarity and uninhibited communication that you, your clients, and your coworkers can rely on.
Delton Efficiency: Our re-engineered chipset is designed to maximize energy efficiency so that you can enjoy a much longer battery life than similarly priced headsets. The 90X can keep a conversation going for over 100 hours straight! With one battery charge it's got 90 days hours of standby too (that's over 2,000 hours!). To make it even more reliable, you can charge from empty to 100% battery in just 3 hours, or get an hour of talk time after just 4 minutes of charging!
Compatible With All Your Tools: Pair the Delton 90X with any Bluetooth enabled devices including PC, laptop, iPhone, Android phone, and more. The Delton 90X supports 2 connections at once, which means you can seamlessly switch from computer conference calls to managing cell phone calls with the touch of a button. Use the included auto-pair USB dongle to easily pair the Delton 90X with any PC or laptop, and then setup a 2nd connection with your phone. The Delton 1080P webcam will work any any Windows or Mac PC or Laptop, just plug the USB cable and go - no software to install!
Features:
The Delton 90X Bundle: Ultralight Executive Computer and Phone Wireless Headset and 1080P Webcam is great for working from home, office, or your office-on-the-go.
Wireless Bluetooth Connectivity makes the Delton 90X Ultralight Executive Headset compatible with any PC or laptop, all iPhones, and all Android phones.
The 90X Ultralight is ergonomically designed with soft memory foam ear cushions, an extendable cushioned headband, and intuitive controls. Comes in black.

Best-in-class noise cancelling technology. The Delton 90X uses a DSP ENC chipset to make sure you're heard clearly no matter where you are or what's in the background.
Noise cancelling boom mic can be rotated so that you can comfortably work on either your left or right ear.
The Delton 90X Ultralight packs a powerful battery that offers up to 100 hours of talk time and over 90 days (that's over 2,000 hours!) standby time.
The soft around-the-ear body and the multiple sized ear cushions (included) make the 90X one of the most comfortable in-ear headsets out there.
You can pair the 90X with 2 devices at the same time. Manage an online presentation on your PC and then seamlessly move to a call on a cell phone. Auto-pairing USB Dongle makes pairing to any laptop or PC super simple.
Backed by our 1-Year Warranty
WARNING: California Proposition 65 Warning. This product can expose you to chemicals including lead, which are known to the State of California to cause cancer and birth defects or other reproductive harm. For more information go to www.P65Warnings.ca.gov
This product has no reviews yet.